Sustainability plays a key role for Südpack Verpackungen GmbH & Co. The family-owned company based in Ochsenhausen, Germany has invested in sustainable production and staff development for decades. The company demonstrates corporate social responsibility in numerous social projects. Customers, suppliers and other stakeholders will now be able to read about what this commitment involves. Südpack is releasing its first sustainability report.
"Pictures of plastic waste floating in the ocean or reports of particles entering the food chain cast a negative light on plastics in general. As producers of films and plastic packaging, we consider it our responsibility to continuously improve the environmental impact of our products", explains Südpack Managing Partner, Johannes Remmele. "With this sustainability report, we are one of the first companies in our field to publicly document what we have already achieved in this area. We are also setting ourselves ambitious goals for the coming years."
Südpack will publish its sustainability report every two years, ensuring that its accomplishments in this area are fully transparent and measurable. The first edition provides over 40 pages of information on the company's ecological, corporate and social activities in the 2015 business year. Figures from the 2014 and 2013 business years provide a basis for comparison. The sustainability report follows the latest G4 Global Reporting Initiative (GRI) Guidelines. "This ensures that our reporting is internationally recognized and verifiable," says Südpack Sustainability Officer, Klaus Pöpperl. "The guidelines also help us represent our holistic understanding of sustainability. They allow us to document what we have achieved in which areas within our company with the confirmation of an independent certification company."
Sustainable production and products
A key focus of Südpack's sustainability efforts is in the area of packaging production. By lowering emissions, reducing raw materials and waste, and implementing an efficient energy management system, the carbon footprint of the packaging solutions has been significantly reduced in recent years. The company is also active in industry-wide initiatives. In 2015, Südpack was one of the first enterprises in Germany to be certified as part of the "Zero Pellet Loss" initiative by the Industrievereinigung Kunststoffverpackungen (German Association for Plastics Packaging and Films) for its measures to prevent the loss of plastic granules. The company is also continually optimizing product protection properties to limit food spoilage, refining its films to reduce material consumption, and investing in new buildings and production lines.
Commitment to employees and society
These efforts are complemented by sustainable measures in company and staff development and occupational health and safety. "We see sustainability as a comprehensive approach that involves all of our company divisions," Johannes Remmele explains. "It extends from production to long-term partnerships with customers and suppliers, and from individual employees to the responsibility of our company toward society as a whole." Social commitment and sponsoring are also an integral part of Südpack's corporate culture. The company sponsors various youth soccer events and supports numerous local organizations, including associations in Ochsenhausen, the German Red Cross and fire brigade.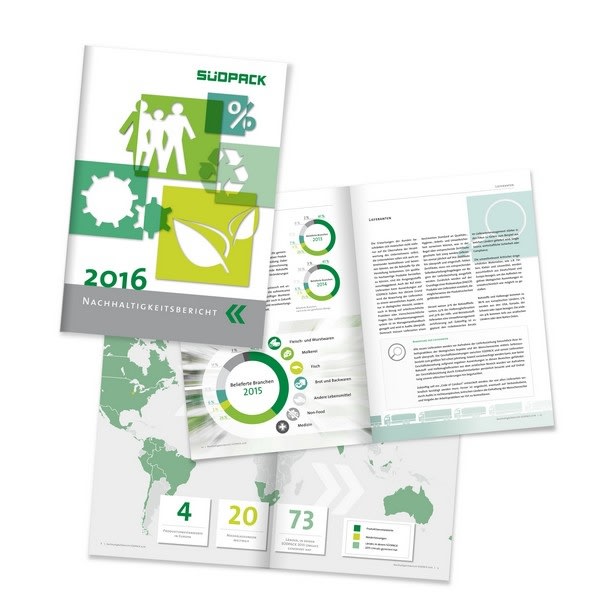 The Südpack Packaging Group is based in Ochsenhausen, Germany. Founded in 1964 by Alfred Remmele, the family-managed business operates 35 sales offices and production sites in Germany, France, Poland and Switzerland. Südpack specializes in lid films, hard/soft films and bags. Films are printed using flexographic, gravure and digital printing processes. Südpack Medica, a subsidiary of Südpack Verpackungen GmbH & Co. KG, manufactures sterile packaging for the medical industry under clean room conditions. With some 1,200 employees, the corporate group generated EUR 367 million in sales in 2016.