With more than 30 end-of-line robots, more than 20 laser-guided vehicles (LGVs), automated warehouses, and record-setting output rates, the new site currently being built by beer giant Modelo is one of a kind. The four bottling lines are all supplied by Sidel.
One of the world`s largest beer makers, the Modelo Group is building a new brewery in Piedras Negras, Mexico near the U.S. border. The Group will produce 10 million hectoliters of beer annually at the new plant for export to the United States and Canada. Piedras Negras will supply almost all of the volume exported to North America, which represents Modelo`s second largest market after Mexico. Three brands will be produced at the new plant: Corona, Modelo Light and Modelo Especial.
When construction is complete in 2010, this fully automated plant will be one of the most modern in the world. Sidel is the sole source for the plant`s four packaging lines: one for cans and three for glass bottles.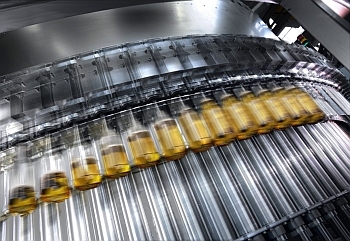 The can line will run at a rate of 66,000 12 oz. (about 33 cl) containers per hour, while each of the three glass lines will bottle 12 oz. containers at a record-setting speed of 144,000 per hour. Each line will have two or three fillers and a pasteurizer. The end-of-line equipment - palletizers, depalletizers, craters and decraters - will all be supplied by Sidel.
The automation between the end-of-line and the warehouse is particularly modern, employing robots that can communicate with the laser-guided vehicles (LGVs) provided by Sidel affiliate Elettric80.
Pallets of empty bottles will be transported by LGV from the warehouse to the depalletizers, then the LGVs will return full pallets from the palletizer to the warehouse. The LGVs can also be used to supply the lines with capsules, boxes and film.
The creation of wrapping islands served by Elettric80 forklifts enables the customer to greatly simplify site layout and work organization. The warehouses supplied by Systems Logistics will be automated and connected to the glass plant warehouses via a tunnel. The first line will be installed in the spring of 2009, and the first bottles will be produced and sold in 2010.