The Society of Plastics Engineers (SPE) Automotive Division has honoured two automotive components that use DuPont engineering polymers with the association`s 2008 "Most Innovative Use of Plastics" awards at its ceremony in Livonia, Michigan (US) on November 2008.
Daimler was given top honours in the powertrain/chassis category for the world`s first commercial-volume polymer oil pan module, which was developed with Bruss and DuPont Automotive using DuPont Zytel nylon. Ford was named finalist in the powertrain/chassis category for an innovative "capless" fuel filler system for the 2008 Ford Flex, Escape, F150, Expedition and Lincoln MKS vehicles, which was developed with Martinrea and DuPont Automotive using DuPont Zytel HTN PPA.
The oil pan for Daimler`s new 4-cylinder diesel engine (OM651), which powers Mercedes-Benz C Class vehicles, consists of a die-cast aluminium upper shell and a multifunctional lower shell, reducing overall weight by a significant 1.1 kilograms (vs. an all-aluminium design) for fuel savings and lower CO2 emissions.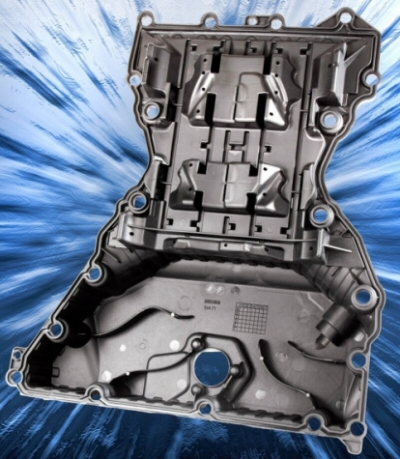 The Ford "capless" fuel filler system not only delights consumers, who "dislike" the refuelling process, but is compatible with biofuels and supports the compliance of Ford`s vehicles to all California Low Emission Vehicle (LEV II or PZEV) requirements. Importantly, this system could further reduce emissions relative to capped systems because the fuel neck isn`t opened until the fuel pump nozzle is inserted. When capless fuelling is completed, the nozzle is removed and the system seals shut automatically, helping to minimize evaporative emissions.
- The challenge to reduce weight for fuel savings and emissions reductions drives many companies to rethink design and manufacture of system components, such as those honoured by SPE - said Karla Butler, marketing and development director for the Americas, DuPont Automotive Performance Materials. - Automakers are looking for new materials and technology to help improve fuel efficiency and reduce emissions without compromising system performance. DuPont`s science and R&D capabilities help enable collaboration that can bring these new developments to market faster and more cost-effectively.
DuPont Automotive Performance Materials specializes in application development, operating globally and using a broad range of high-performance materials and technology to help customers reduce weight and cost while improving performance of components and systems in powertrain, driveline, chassis, fuel, electrical/electronic and interior/exterior vehicle systems.
The DuPont Engineering Polymers business manufactures and sells Crastin PBT and Rynite PET thermoplastic polyester resins, Delrin acetal resins, Hytrel thermoplastic polyester elastomers, DuPont ETPV engineering thermoplastic vulcanizates, Minlon mineral reinforced nylon resins, Thermx PCT polycyclohexylene dimethyl terephthalate, Tynex filaments, Vespel parts and shapes, Zenite LCP liquid crystal polymers, Zytel nylon resins and Zytel HTN high-performance polyamides. These products serve global markets in the aerospace, appliance, automotive, consumer, electrical, electronic, healthcare, industrial, sporting goods and many other diversified industries.