SABIC, a global plastics industry leader, is extending its polymer portfolio for healthcare applications with the launch of two high-purity polypropylene (PP) random copolymers. Both new PP grades were developed specifically for healthcare applications, underscoring SABIC's strong commitment to the industry. SABIC will showcase the two new grades, one for a wide range of blow moulding applications, the other for injection moulded parts, at Pharmapack 2011 in Paris.
Extrusion-blow moulding grade SABIC PP PCGR02 exhibits good contact transparency, outstanding impact strength and excellent processability. Key target applications include bottles and ampoules. The second new resin, SABIC PP PCGR25, features the high clarity and good antistatic properties necessary for injection moulded housings of disposable syringes. It may also be used for other parts that benefit from its excellent optical properties as well as its broad processing window. SABIC® PP PCGR25 technology provides exceptional transparency for easy viewing of syringe contents and for attractive aesthetics. It also allows the use of lower melt processing temperatures than is normally the case for conventional random copolymers. Ben Raven, SABIC PP Technical Marketing Engineer, comments: "Converters may operate with significantly shorter cycle times and achieve energy savings of up to 15%. The use of this material also supports sustainability initiatives."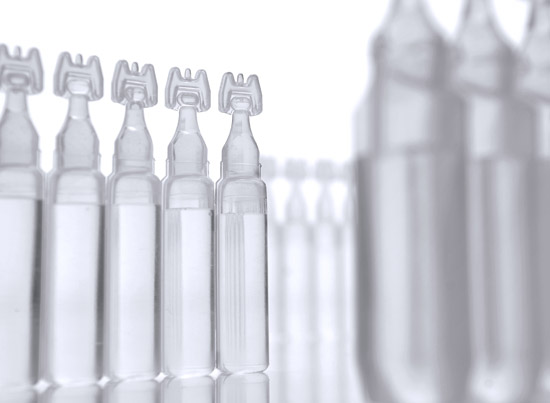 Peter Tackx, SABIC Business Development Manager, Healthcare, says: "We continuously invest in new product developments to support our customers develop safe and eco-responsible products while meeting stringent healthcare regulations. SABIC PCG PP random copolymers are the best choice when it comes to key factors such as product stability, reliability, traceability and consistency, together with security of supply."
Tackx continues: "SABIC fully understands the challenges of the healthcare industry. We provide the security of a strong logistical network capable of holding and handling a sufficient level of supplies enabling continuous availability for customers worldwide. Current developments within the healthcare industry demand a strong and responsive partner. We offer a broad network of sales offices and manufacturing sites to provide customers with local expertise and a reliable supply of our SABIC PCG range. SABIC's dedicated healthcare portfolio – SABIC PCG - encompasses a wide range of polyethylene and polypropylene solutions for blow-fill-seal, blow moulding and injection moulding technologies. The range supports a broad spectrum of healthcare applications, ranging from containers, bottles, closures and bags to ampoules and connectors. SABIC PCG grades have a Drug Master File (DMF) number and comply with the relevant monographs of the European Pharmacopoeia (EP) and the United States Pharmacopoeia (USP VI)."