SABIC and VU University Amsterdam (VU) collaborate on new solar thermal technology that can lead to significant sustainable energy gains in the future.
Customers in the future will benefit from lighter weight, more efficient and lower cost solar thermal panels as a result of an exclusive, worldwide agreement between SABIC and VU University Amsterdam (VU). The objective of the collaboration is to develop and commercialize the university's technology invention to keep the temperature in solar energy collectors under control.
Over the course of the last decade, as Europe's energy market has diversified, solar energy has become a vital source of clean energy for many households. By the end of 2011, over 50 gigawatts of PV systems and 26 gigawatts (solar thermal energy) had been installed in Europe - enough to supply electricity to over 15 million households and provide domestic hot water to 12.5 million households with an average sized solar thermal system1. As demand for solar energy rises, SABIC and the VU University are collaborating to develop a new, more efficient solar thermal technology to harness sunlight to collect heat. The energy from sunlight generates temperatures in solar energy collectors that often exceed the melting point of plastic materials, requiring the collectors to be constructed from expensive metals and glass that are heavy and restrictive in their design freedom. The concept developed and patented by VU University uses an "optical switch" by creating a prismatic structure of the thermoplastic panels made from SABIC's Lexan* polycarbonate sheet in such a way that, the sunlight can be reflected before the panels get too hot.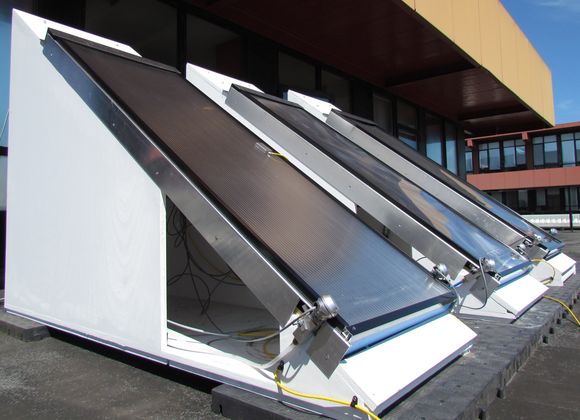 Professor Ronald Griessen and Martin Slaman of the department of physics at VU University have been looking for solutions to the problem of overheating in hot-water solar collectors and conceived the idea to limit the temperature by the use of geometric surface structures. In their search for an industrial partner, VU Technology Transfer Office came readily to the conclusion that SABIC, as a leading, global supplier of engineering thermoplastics with an 80-year history of breakthrough solutions, provided the ideal collaboration opportunity.
Professor Ronald Griessen said: "The agreement we have entered into is a milestone in the development of this new technology and can revolutionize the way in which solar collectors and similar applications are manufactured in the future. The experience and scope of SABIC will bring a greater level of security to the outcome of this project."
"Solar thermal energy is one of the most promising and dynamic energy sectors in the world – and growing," said Elly Burghout, Application Technology Leader of Innovative Plastics at SABIC. "For SABIC, this invention paves the way for new, practical solutions for our customers and we are very happy that we can support to make solar thermal more effective, practical and affordable through designing with engineered thermoplastics."
Lexan* polycarbonate as base material for solar energy collectors can offer customers exceptional ease of use due to its lightweight and greater cost-efficiency by replacing metal to consolidate parts, reducing maintenance and simplifying installation. This technology can also be applied to greenhouses.
"It is fantastic that a practical, useful idea relating to sustainability was conceived in an environment of fundamental scientific research", says Steven Tan, Manager Technology Transfer Office VU University & VUmc (Medical Centre). "We are extremely pleased that SABIC has embraced this concept and will develop it through to commercial success."
The concept has already been awarded the EUREKA Climate prize by the province of North Holland in 2009 which contributed to funding further development together with The Institute for Fundamental Research on Matter (FOM).