At Fakuma 2008, Rapid Granulator AB will launch its newly developed 100 Series granulators together with the latest addition to its range of ?open-hearted` granulators, the 600 Series.
These time and cost saving innovations for moulders and processors will be prominently featured in the company`s presentation on Stand 1108, Hall B1 at the exhibition in Friedrichshafen, Germany.
The Rapid 100 Series is a completely new line of slow speed, screenless granulators with Integrated Metal Detection (IMD), for beside-the-press applications, designed specifically to grind hard and brittle materials. The machine portfolio comprises eight base models; the smallest for handling waste such as the sprues and rejects from gear wheel production, and the biggest capable of granulating very large components like car bumpers and dash boards, for example. All models are equipped with ?soft coupling` to ensure the absorption of operational stresses and prevent damage to the gearbox and the motor.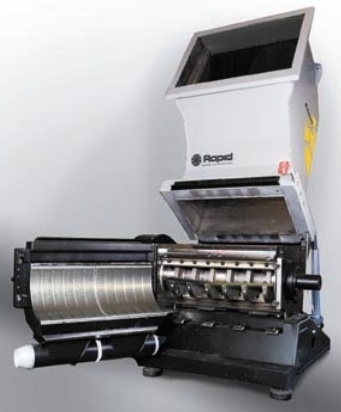 According to Bengt Rimark, Rapid Group Marketing Manager: - The 100 Series has been developed to provide a flexible solution for virtually any beside-the-press granulation application involving tough materials such as glass filled plastics. In addition to the low noise and low energy consumption, expected of today`s machines, the 100 Series incorporates Rapid`s IMD technology. This minimises the risk of damage to the machine itself, but of equal importance, it significantly lowers the chance of damage further down the line to the injection moulding screw, or the tool - he explains.
The 100 Series is also served by an Anti Blockage System (ABS), which not only prevents blocking in the cutter house but enables thicker products to be granulated.
- Also at Fakuma we will launch the biggest ever granulator series based on our unique ?open-hearted` design. This follows the success of the ?open-hearted` 300, 400 and 500 Series - says Rimark. The open-hearted 600 Series has a rotor diameter of 600 mm and is available in 3 widths; 900, 1200 and 1500 mm and can handle capacities up to 2.500 kg/h. Moreover, the 600 Series can also be equipped with the Rapid Super tangential cutter house, which enables the machine to run with parts bigger than the actual rotor diameter.
Rapid`s unique ?open-hearted` concept, originally launched in 2004, is based on an ergonomic design that provides direct and complete access to the heart of the machine, rotor and cutter house during production changes without tools and in just three steps. This allows ?visibly clean` inspection and approval of the machine before it resumes operation, preventing potential contamination after colour and material changes. This radically simplifies inspection, cleaning and maintenance - which can account for up to 80 percent of a granulator`s running costs - and reduce cleaning time by as much as 50 percent.
Rapid`s ?open-hearted` granulators are ideally suited to high-volume central or beside-the-press granulation of injection-moulded, blow-moulded or extruded plastic waste, or rejects for direct recycling. They all use the Rapid cutting technique, comprising clean double-scissors cutting action and a constant cutting circle, to produce uniform-size granules with minimal dust content, even with the toughest materials. And, of increasing importance, the machines` cutting action reduces the force needed to slice through the plastics waste, thereby significantly reducing energy consumption.
Rapid Granulator AB, headquartered in Bredaryd, Sweden, employs 265 people, has a turnover in excess of SEK 350 million per year and exports around 95 percent of its production. Supporting its sales operations and customer base the company has five subsidiaries located in Venice, Italy; Rockford (IL), USA; Shanghai, China; Lyon, France; Kleinostheim, Germany and Beirut, Lebanon, as well as a sales office in Singapore. Further support is provided by a global network of over 90 agents and local partners. More than 60,000 granulators installed across five continents confirm the company as a world-class leader in its field.