Printpack opens new €40million plant in Kutno, Poland, the 10,000sqm factory is expected to employ approximately 100 people and will focus in the Northern, Central and East European markets.
The factory is sited on a 6.5 hectare plot and houses printing technology that includes new rotogravure and flexographic presses and enhanced lamination capabilities which will allow Printpack to produce complex laminated offerings and target new markets such as pouches for pet foods, dry products, condiments and sauces. The new plant is an extension of Printpack's European capability.
The facility was opened by Dennis Love – President Printpack Inc and the ceremony was attended by key Printpack personnel including Jimmy Love – Vice President, International Business, Jack Austin – Managing Director, Printpack Europe, Steve Snowden – Site Director, Kutno, local dignitaries including the Mayor of Kutno – Zbigniew Burzyński and the President of Łódź Special Economic Zone – Marek Cieślak.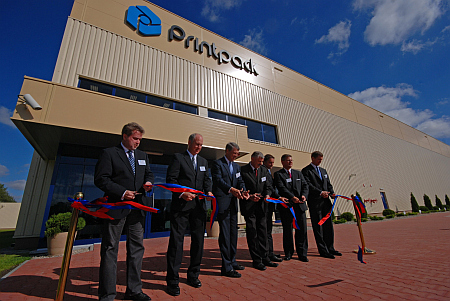 "Until this point in our company's history, we have not been a significant player in continental Europe, but that is something we intend to change. This plant will give us the capability to service the needs of our customers throughout all parts of Europe. We chose this site in Kutno for its central location with easy access to transportation, because of the quality of life found here, and because of this efficient and modern industrial park. But most importantly, we chose Kutno because of the highly educated and skilled people we can hire here. At Printpack, we understand that our company can only be as good as the people we hire and that our people are our best competitive advantage."
"We expect that in the next few months this plant will be manufacturing technically advanced packaging materials produced by 85 new highly trained Printpack associates. And we believe this will only be the beginning. If our strategy is successful, we expect to see this facility grow and become increasingly important to our company as we add new capa
The Kutno plant has just received three key certifications required to supply most of the company's customers, these are the food safety certifications AIB and BRC, and the quality management certification ISO 9001.