A new application of polycarbonate-ABS blends (PC+ABS) is premiering together with the new Mercedes SLK.
The base version of the convertible is equipped with an electrohydraulic vario roof system having a roughly 0.8 square meter roof element of Bayblend T85 XF from Bayer MaterialScience.
"The roof element, which is coated in the body color offline, demonstrates that our high-performance material makes it possible to take thermoplastic exterior bodywork parts installed horizontally to an entirely new dimension with respect to size while still satisfying the very stringent requirements for comfort, optical quality and dimensional accuracy," says Stefan Schulten, key account manager for Daimler and head of the Exterior Segment in the Automotive Team at Bayer MaterialScience.
The PC+ABS roof element is manufactured by Peguform GmbH, one of the world's leading manufacturers of plastic parts, complete systems and modules for automotive interiors and exteriors. The company is based in Bötzingen, Germany.
The roof module element exhibits high energy absorption in crash situations. This benefits safety, because the component does not break and fail. "The break resistance is due to the high toughness of our PC+ABS blend, which is retained even at temperatures well below freezing," explains Schulten. Thanks to its temperature of deflection under load of 127 °C (0.45 MPa, ISO 75-1, -2), the unreinforced material is able to satisfy the high thermal requirements placed on horizontal bodywork parts.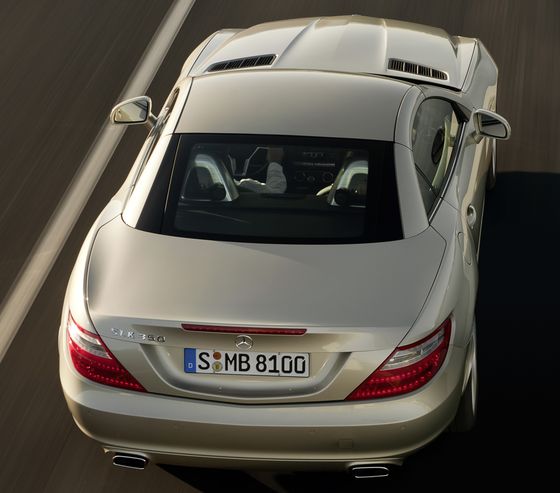 Other strengths include high chemical and stress-cracking resistance, plus 10 to 15 percent better flowability compared with the standard material. "Together with our processing expertise in injection-compression molding, this enables us to produce large-area moldings with low levels of stress and warpage and outstanding surface quality in short cycles – and economically, too," says Hans Zilch-Bremer, who as a key account manager for Daimler at Peguform played a major role in the development of the roof element.
The modular vario roof system is offered in two additional versions besides the base version with the roof element of Bayblend T85 XF. It is also available with a transparent panorama roof element made of Makrolon AG 2677, a Bayer MaterialScience polycarbonate tailored for automotive glazing, and another version includes a glass roof element that changes from transparent to dark and vice-versa in just a few seconds at the push of a button. All three roof elements are bonded to the same roof module frame featuring a lightweight design.