A clear improvement in capital spendings among the main customer industries and thus sales increases were also reported by the Simona Group in Kirn (www.simona.de). During the first half of 2011 business with PP pipes and fittings for industrial applications grew significantly, while sales in PE pipes went down. During the third quarter of 2011, the company recorded a slowdown in growth. One major reason why investment activities were so muted in key customer industries was the financial crisis among banks and governments and the increasing uncertainty it caused in the markets from mid-2011 onwards. Nevertheless, in pipe construction, revenues from PE fittings displayed a clear upward trend, while continuing to decline in PE pipes.
In its 2011 annual report the German Association of the Plastic Pipe Industry (Fachverband der Kunststoffrohr-Industrie) provided a range of figures and analysis of the 2010 fiscal year. In this report it says that German plastic pipe production had risen to 637,000 metric tonnes in 2010, which was 4.9 per cent higher than the year before. However, it still fell short of the record figure of 710,000 tonnes in 2007 and also of the figures in 2006 and 2008. The biggest single segment remained the processing of PE pipe systems, which recorded a 4.0 per cent increase to about 319,000 tonnes. PVC U applications grew to 233,518 tonnes – up 3.5 per cent. The biggest relative increase was observed in pipe applications for PP where the production volume went up 12.7 per cent, reaching 84,193 tonnes.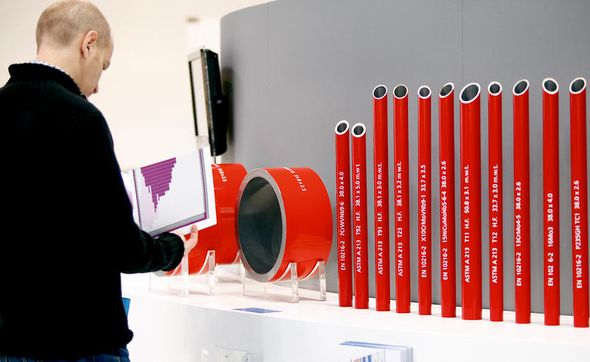 Growth in production was almost entirely due to the good economic development of the German domestic market, which compensated for sudden economic setbacks in neighbouring EU countries that were burdened by the debt crisis. With 534,000 tonnes of plastic pipe systems, the German domestic market for such systems had reached its pre-crisis level of 2008. Exports, on the other hand, were only 151,000 tonnes and thus merely at the previous year's level and clearly below the level of 2008. In fact, the export share had dropped from almost 28 per cent in 2007 and 2008 to less than 24 per cent in 2010.
The Association ascribes this generally positive development partly to the economic recovery packages of the German government and partly to substitution effects. It reckons that plastic pipe systems should increasingly replace pipe systems made from other materials, especially in the ailing sector of civil engineering. Moreover, traditional pipe systems are also being replaced more and more by plastic in building construction and therefore in building services engineering. But the upward trend in the German domestic market also appears to have benefited plastic pipe manufacturers outside Germany. At about 49,000 tonnes, imports in 2010 were up slightly compared with the year before, thus reaching the highest level since 2007.
Apart from substitution effects, KRV also sees a stimulation of demand coming from a boost in housing construction. For the second time in succession there was an increase in the number of planning permits for residential housing (up 7.1 per cent in 2010), which undoubtedly benefited plastic pipe systems, as such systems are used in all areas of building services engineering (drinking water and domestic gas installations, drain pipes, underfloor heating and cooling).