Customers look for eco-friendly containers, bottlers ask for cost effective solutions. P.E.T. Engineering matches both needs and adds something that is mandatory when developing packaging: quality.
This scenario has given rise to the concept of "feasible light-weighting", a light-weighting that, stemming from the symbiotic design of the preform and container, gives life to ultra light, economical, environmentally friendly, and at the same time, well performing bottles easily implementable on filling lines.
The projects that will be presented at this important international showcase have been developed with the support of Husky Injection Molding Systems, a leading supplier of injection molding equipment and services to the global plastics industry, and with Novapet, specialist in resins for every application.
EvoLight, in the 0.5l format, with a weight of 7.5g, is the result of highly focused research and development. The weight has been reduced by 31.5% than the average weight of bottles currently on the market. The result has been achieved by implementing a new Husky 26/22 neck finish, with a weight of 1.91g, the SWERVE NECK solution, which was awarded with the Innobev Sustainability Award 2013, and SUNBASE, the patented bottom able to give more resistance and rigidity to this area even with the presence of nitrogen. The right balance between weight reduction and perfect visual performance has been achieved by using the resin X_TREME by Novapet.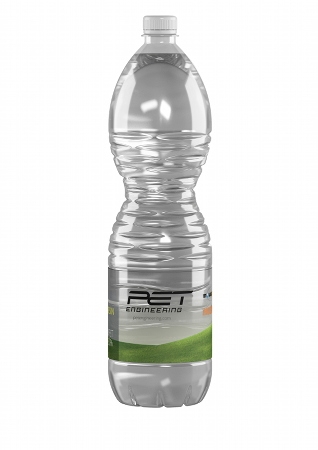 EvoLight, in the 1.5l format, adds to the technology already applied to the 0.5l bottle the possibility of being used for both still and carbonated water applications on the same filling line without the need of a neck finish conversion, thanks to the interchangeability of the new Husky 26/22 for sparkling and still water products, and with a minimum format change.
With the still version weighing only 18.9g and the sparkling version weighing 22.5g, EvoLight is the ideal solution for not only saving raw material but for creating a corporate shape which enhances the brand identity.
The 1 liter containers for milk and the 75cl for juice, with a 33mm neck finish, further light-weighted by applying the swerve neck solution, demonstrate the vocation of P.E.T. Engineering to be a one-stop-shop for all needs related to beverage packaging. This is made possible not only through research and development activities, but also through an effective implementation of the solutions on the bottling line thanks to the neck finish conversion service.
P.E.T. Engineering will be present at Drinktec 2013 at booth 309 in Hall B3.
Moreno Barel, C.E.O. of P.E.T. Engineering, will also be among the speakers at PETnology, which will be held on September 15 to 17 in Munich. He will speak about "Quality, cost saving and eco-sustainability: the real meaning of light-weighting."