Last week at Poleko 2008 - the largest fair in Central Eastern Europe for experts in the field of environmental protection and municipal services - Orwak presented new baler Orwak 3610.
Orwak introduced "the silent family" - a line of balers with a low noise level. Quietly running machines promote the ability to concentrate and facilitate oral communication, which contributes to improving the working environment.
Orwak 3610 is the latest addition to the silent family and it will be launched on the world market in October 2008. This new model has a lot of promising qualities to offer and it replaces the existing classic cardboard baler Orwak 3600. Orwak 3610 is a very powerful machine - yet "soft spoken" as the noise level is only about 60 dB. To put this level into perspective, it is interesting to note that the noise level of a normal conversation amounts to approximately 55-60 dB.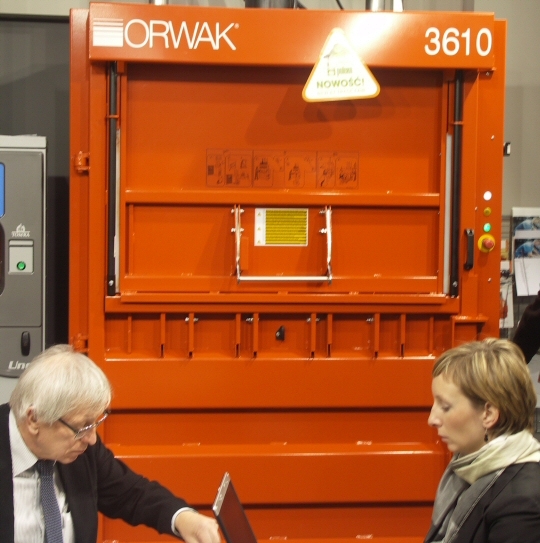 The model 3610 is Orwak`s largest and strongest front-loading baler. With its generous loading aperture and its high capacity for compaction of large volumes of waste, it is ready to take on the most demanding assignments! Voluminous cardboard wrappings and boxes are efficiently reduced up to 6:1. The cycle time has decreased 20 % - compared with the speed of the predecessor - and is now only 33 seconds. The gain of 9 seconds per cycle translates into a valuable time saving per year.
New 3610 offers even more efficient and convenient material handling and volume reduction. It minimizes the time of waiting for the cycle to be completed. Orwak 3610 is suitable for environments where large amounts of waste are generated or where the baler is operated intensely during a specific time of the day. This baler is equipped with an autostart function that allows the baler to start compacting the material as soon as the door closes. The sliding door opens automatically after each completed cycle and the baler is immediately ready to be fed with more waste.
With a press force of 50 ton, Orwak 3610 produces commercial bales, which weigh up to 550 kg. The bales can either be secured by polyester straps or by steel wire. High density bales offer the best transport logistics for maximum pay load per truck and environmental benefits like reduced CO2-emission.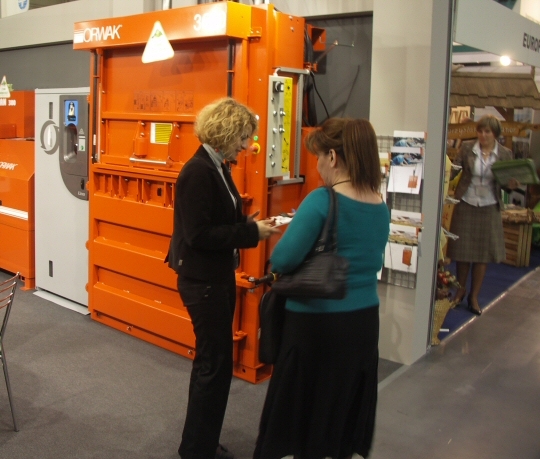 A new feature of model 3610 is the switch, which allows the operator to fast and easy change the setting from high pressure "HP" for cardboard to low pressure "LP" for plastic foil. This function makes the baler more versatile and allows for more flexibility in the choice of materials to compact. The 50-ton-press force powerfully strikes and flattens a pile a cardboard, while the low 12.6- ton-press force is ideal to - with a lasting result - literally knock the wind out of a persistent material like soft plastic.