To help improve impact resistance, expansion and durability of the structural part of the lift-gate, Styron's engineers introduced Inspire long glass fiber polypropylene resin (LGF-PP) to meet such requirements. By increasing the glass content of the molding material, the part is able to gain improved stiffness and toughness.
In addition, Styron also supported Renault in optimizing the tool-design for their machine and specifically supported them with selecting the appropriate plasticizing screw to maintain the required fiber length after moulding the lift-gate. Choosing a material composition and manufacturing process that achieves the desired glass fiber length distribution is critical to meeting the specific performance requirements of Renault's lift-gate.
Berend Hoek, Application Engineering & Development Styron Automotive adds: "Renault had initially approached us to support them with the concept development of the new lift-gate. They had seen our engineering capabilities at work for the structure development for the front end carrier of the VW Golf using LGF-PP. This exterior application was confronted with similar complexity issues in design as well as production process: it consisted of different metal and thermoplastic parts that had to be assembled into a single application."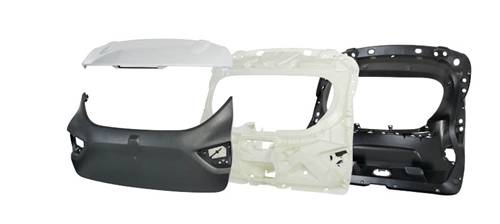 In the realization/production phase, Styron has offered both material development and processing support. In the selection of the materials, Styron was confronted with several challenges due to the complexity of the part. The selected materials were tested and fine-tuned to Renault's specific production process including injection molding, painting, bonding and welding. The final lift-gate design consists of three parts:
The inner skin is injection moulded using a talc filled polypropylene compound from Styron and connects to the structural part.
The structural part is produced with long glass fiber polypropylene resin (LGF-PP) concentrate developed by Styron. This concentrate is diluted directly on the moulding machine with appropriate PP copolymer resin through dry-blend directly.
The outer skin is made with Styron's Inspire At-Press talc masterbatch concept, which injection moulds through blending of the different components (polypropylene impact copolymer, specifically designed 70% talc masterbatch and the required color concentrate), allowing for a tailored mechanical performance to meet the OEM specific application requirements.