The Surlyn 3D technology offers greater design freedom in the production of perfume, personal care and make-up packaging in different shapes and with a range of visual effects – from crystal transparency, coloured translucence to frosted effects.
In the year since its introduction at Luxe Pack 2008, DuPont has extended the capabilities of its overmoulding technology to bring further design freedom to the packaging of cosmetic and perfume products. Named Surlyn 3D– the D's standing for Design, Decoration and Depth - enhancements from DuPont include new shapes and colours for the inner and outer containers of perfume, personal care and make-up packaging and new material combinations for improved barrier properties and chemical resistance according to the cosmetics ingredients and application.
The result for customers is the creation of cosmetic and perfume packaging providing glass-like transparency, luxury decorative effects and increased consumer safety and convenience that simultaneously reflect brand identity and achieve product differentiation.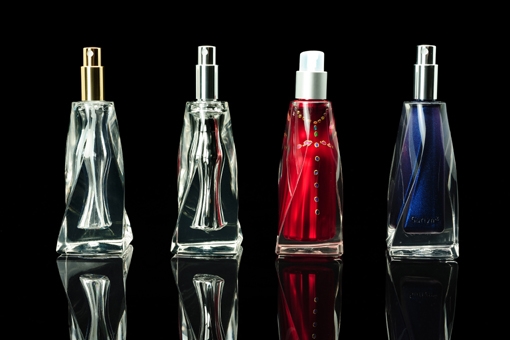 The Surlyn 3D technology involves the overmoulding of a single or multilayer polymer inner container with glass-like transparent, highly-durable Surlyn resins. Its core benefit is the greater design freedom offered by the creation of inner and outer containers in different shapes and with a range of visual effects – from crystal transparency, coloured translucence to frosted effects. Its use of polymers and unique production process enable the simple and cost-effective decoration of both the inner and outer containers surfaces, which remain protected without the need for additional coatings or varnish.
DuPont's increased familiarity with the technology and understanding of its full potential have led to the development of new colours, textures, shapes and sizes of both the inner and outer containers. Of additional functional and aesthetic benefit, the overmoulded Surlyn provides a protective, thick-walled outer shell with a deep, glass-like appearance, yet with no risk of breakage for greater consumer safety and convenience with "on-the-go" products. Allowing greater control of wall thickness and tighter dimensional tolerances than when producing with glass, the all-polymer construction is also lighter for cost and environmental savings in terms of transportation, energy and CO2 emissions.
The overmoulding technology consists of two manufacturing steps including two different processing techniques. The inner container can be mono or multilayers and made of different materials (polypropylene, copolyesters) depending on the required barrier performance and chemical resistance, as well as the desired decorative effects. It is manufactured by extrusion blow moulding, injection blow moulding or the assembly of injected moulded parts.
The inner container is subsequently overmoulded with Surlyn by injection moulding using a unique process developed and patented by the DuPont affiliate in Japan, MDP (DuPont Mitsui Polychemicals). In addition, and in order to extend the application of Surlyn 3D, DuPont has invested in the training of a number of moulders worldwide in the adoption and use of the overmoulding technology, where production will take place under licence.
Since its launch in Monaco in October 2008, the overmoulding technology has been enthusiastically received by moulders, brand owners and packaging designers alike. - Surlyn 3D overmoulding technology is recognised in the market as a genuine breakthrough which allows new and innovative effects which would be hard and costly to do with other materials - confirms Arnaud Mastain, cosmetic market development manager at DuPont Cosmetic Solutions.
- They are genuinely excited by the technology's potential for true market differentiation, and we expect to see its first commercialisations in Europe and across the world in the coming months.DuPont Cosmetic Solutions brings DuPont's "Miracles of Science" to the world of beauty and personal care by expanding the possibilities of its comprehensive range of materials and technologies, and by fostering partnerships focused on technology and consumer insight. Its primary aim is to develop new and differentiated cosmetic solutions that meet brand owners' and designers' needs for innovation while enhancing the consumer experience and bring more fun, emotion and well-being.
DuPont Packaging and Industrial Polymers is a world-class manufacturer of high-performance resins and films for a variety of packaging and industrial applications. Its best known ethylene copolymer products include Surlyn resins for packaging and industrial applications, Bynel coextrudable adhesives, Selar PA amorphous polyamide barrier resins, Nucrel acid copolymers, Elvax EVA copolymers, Elvaloy, Elvaloy AC, Entira and Fusabond modifiers.
DuPont is a science-based products and services company. Founded in 1802, DuPont puts science to work by creating sustainable solutions essential to a better, safer, healthier life for people everywhere.
Operating in more than 70 countries, DuPont offers a wide range of innovative products and services for markets including agriculture and food, building and construction, communications, and transportation