Two Flexalloy PVC elastomer compounds from Teknor Apex Company provide manufacturers of charger cable for electric vehicles (EVs) with more cost-effective alternatives to other elastomers in both insulation and jacketing, the company announced. Teknor Apex will introduce the products at Wire China (Stand W1-C12).
The new compounds are Flexalloy 89504-90, a 90 Shore A formulation for insulation, and Flexalloy 9610-78 for jacketing, with Shore A hardness of 78. The materials exhibit brittle points of -46 and -38 ºC, respectively, and are both rated for a maximum continuous operating temperature of 105 ºC.
[Typical physical, electrical, and flame properties appear in the accompanying table.]
Unlike standard flexible vinyl, Flexalloy compounds are based on ultra high molecular weight PVC resin. They exhibit improved toughness, abrasion resistance, and low temperature properties and provide elastomeric resilience and resistance to compression set, according to Mike Patel, wire and cable industry manager for the Vinyl Division of Teknor Apex. The compounds can be processed on standard PVC equipment.
"Teknor Apex developed these two new Flexalloy products especially to meet the requirements of UL Type EVE for the high production volumes and rugged end use performance posed by EV charger cable," said Patel. "They provide cost-effective alternatives to premium-priced elastomers such as TPUs."
Typical Properties of Two New PVC Elastomers for Electric Vehicle Charger Cable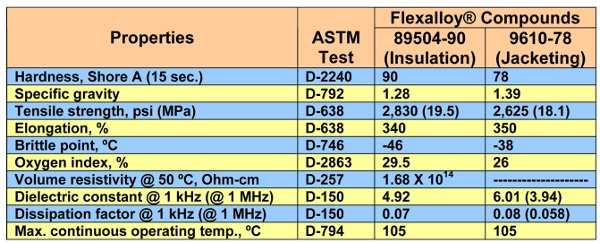 Source: Teknor Apex Company