Users of advanced medical polymers gain controlled, consistent, compliant color with new Clariant Mevopur Masterbatches.
Manufacturers of medical devices and packaging who choose newer plastic materials like Eastman Tritan co-polyester and Topas cyclic olefin copolymer (COC) now have readily available color options that are pretested and compliant with key standards governing materials used in medical and pharmaceutical applications. Available under the new Clariant Masterbatches brand name Mevopur, these color concentrates and pre-color compounds are produced under specially controlled conditions in ISO13485 certified plants, using raw materials that have been biologically evaluated against USP parts 87 and 88 (Class VI devices) and/or the international standard ISO10993, and spectroscopically analyzed on delivery.
New Mevopur masterbatches and pre-color compounds are an addition to Clariant's globally available 'ISO10993/ USPVI standard color' range for such polymers as specialty polyether block amide (PEBA) and more widely used polyethylene and polypropylene materials.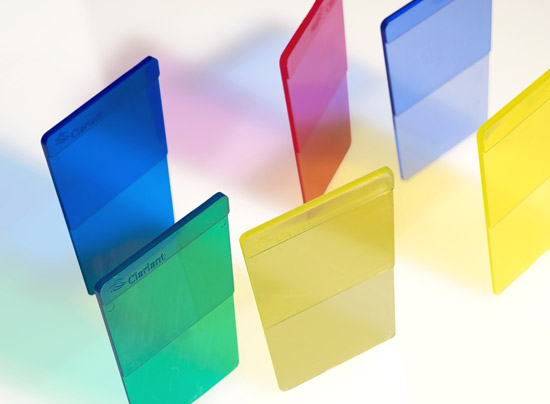 "Designers, manufacturers and marketers of medical and pharmaceutical devices and packaging have to contend with strict regulatory controls governing end-product ingredients, traceability, consistency and safety," explains George Pape, Medical Device and Healthcare Market Manager. "At the same time, they want to take advantage of the performance benefits of these advanced polymers. Our newest Mevopur masterbatches give them bright, vibrant colors and advanced performance properties while helping to minimize risk at every stage of the development process."
The new colors for Topas COC polymers were developed to work with the inherent transparency of the material. No dyes are used, eliminating the risk of color migrating to the surface of molded products. Masterbatches and precolored compounds for Tritan co-polyester are available in both translucent and opaque formulations. The medical-grade pigments allow Clariant to produce a wide range of standard and custom colors to meet specific customer requirements. Clariant recently launched a range of globally harmonized standard colors for polypropylene and polyethylene as well as other materials such as PEBA. This range of up to 17 standard colors can be especially beneficial in small-volume applications, where a custom formulation is not justified.
Both Topas COC and new grades of Tritan resins are being widely considered as substitutes for glass and polycarbonate in medical device and pharmaceutical packaging applications. Both of these new materials offer good resistance to hydrocarbon-induced stress cracking, and are free of bisphenol-A, a minor ingredient in polycarbonate and some other resins that has recently come under scrutiny by regulatory authorities.