During March 2015, the mobile exhibition and demonstration facility will begin its journey through Germany. Primary destinations are the country's 'plastics valleys'. Following that, plastics experts and others in France, Spain, Austria, Switzerland, Poland, the Czech Republic and Hungary will be taking part in this innovative 'Moretto Experience'.
The Eurela dehumidification system for plastics granules plays a key part in the comprehensive range of exhibits demonstrated during the European Moretto Road Show. Its core component is the X Max dryer with its new centrifugal blower.
Among the other exhibits are Kruise Kontrol components, next to the FC cy-clone filter and the automatic Dolphin manifold system which, together with One Wire 6 Krono, the first auto-adaptive system on the market, form one of the most efficient materials conveying systems for plastics granulate on the market today. The most prominent models of the dryers series (e.g. Mini DryAir), the dosing equipment series, namely DGM Gravix, as well as DVK Krystal and the compact TE-KO temperature controllers complement the picture of a powerful mobile exhibition.
Beyond that, plastics processors will be able to enjoy a wealth of information and documentation on the large on-board video screen. 'Real-time' application examples, taken at customers' sites, the entire production program presentation, not forgetting installation and operating instructions, are part of the unique experience. Throughout their inspection of the full equipment portfolio, visitors to the 'Moretto in motion' liner will be assisted by a team of fully trained and accomplished sales and technology insiders, both Italian and native speakers of the respective visited country.
"A visitor wishing to know more about the performance of the systems on show can, for instance, put a dosing unit of his choice through its paces in his own shop for a certain period of time", assures Yves Radoux, head of the Moretto Deutschland GmbH subsidiary in Neunkirchen am Sand (near Nuremberg).
Renato Moretto concludes: "To my knowledge this is the first time a manufac-turer of ancillary equipment for the plastics processing industry takes his entire, market-relevant, product portfolio as close to the customer as it is possible to be. Never before have customers been able to 'go shopping' for innovative equipment and solutions on their own doorstep, at their leisure."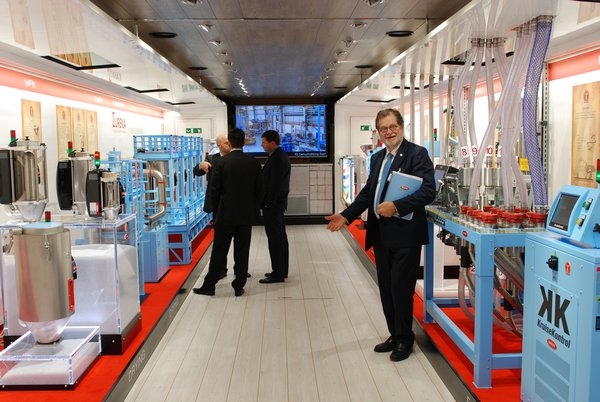 All those interested in this unique opportunity are invited to contact
marketing@moretto.com.