Michelin has developed the world's biggest tire, the MICHELIN XDR 59/80R63. Designed for trucks used in open-pit mines, this radial tire measures 4.03 meters in diameter and 1.50 meters in width, weighs more than 5 tonnes and can carry a load of over 100 tonnes per tire. The MICHELIN XDR 59/80R63 contains 890 kilograms of steel, enough to build two small cars, and 3,850 kilograms of rubber, enough to produce more than 600 car tires. In recent years, the mining industry has been upsizing to move larger quantities of ore faster and in more challenging conditions. The Michelin XDR 59/80R63 makes it possible to carry these heavier payloads. In addition, since the tire lasts more than 25% longer, it also helps reduce operating costs and improve productivity.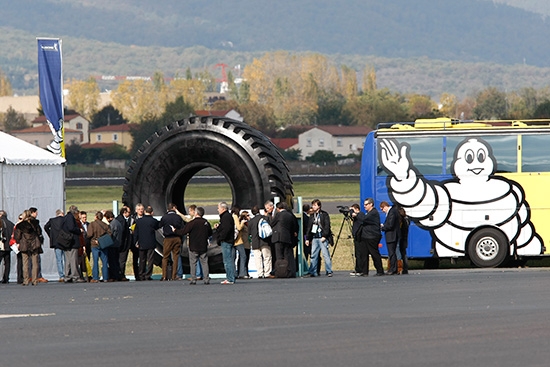 Designed and produced through close cooperation between Michelin and equipment manufacturers, the MICHELIN XDR 59/80R63 played a key role in the development of the latest generation of ultra-class mining trucks. Fitted with the Michelin XDR 59/80R63, these machines can carry payloads of more than 360 tonnes, for a gross vehicle weight of over 600 tonnes. More recently produced in the smaller 53/80R63 and 56/80R63 sizes, this Michelin innovation has become the market benchmark capable of equipping the latest ultra-class trucks. Michelin researchers are already working on the next generation of tires for very large earthmovers. The focus is on understanding user needs, developing future vehicles in close cooperation with manufacturers, extending tire life and enhancing tire performance.

A tire packed with technology and expertise
The Michelin XDR 59/80R63 was developed around four proven technological achievements:
· 80-series low-profile tire technology, which offers superior performance and outstanding load-carrying capacity.
· The revolutionary, ultra-deep XDR tread, which comprises independent tread blocks positioned around the tread centerline and improves longevity by a substantial 25% compared to the Michelin XKD1 when carrying the same payload.
The use of leading-edge materials and processes for the tread that reduce the amount of heat generated without shortening tread life.
· Robust architecture in the bead area, specifically designed to resist high torque and the heavy loads carried by very big trucks.
Since 1959, when it marketed the first radial for earthmovers, Michelin has established itself as the leader in advanced tire research and development, helping customers to enhance their productivity, extend tire life and optimize cost per tonne transported. Michelin produces more than 110 sizes of tires for equipment used in underground mining, surface mining, construction, quarries, industrial handling, and ports and terminals.