In Bucharest, the capital of Romania, a new National Stadium is currently under construction and planned to be completed at the end of 2010. The architectural design with its eye-catching cabriolet roof of Makrolon sheets from Bayer Sheet Europe, evokes memories of the Commerzbank in Frankfurt am Main, Germany. The stadium is named after Lia Manoliu, a discus thrower who won a gold medal at the 1968 Olympic Games in Mexico and died in 1998. With its innovative architecture, the new stadium fits well in the line-up of modern sports arenas.
The oval stadium, visible from far away, will serve as a venue for important soccer games such as the final game of the 2012 UEFA Europa League Final 2012. As Romania's new National Stadium it will also serve as a venue for any type of large event. For this reason the planners had to reconcile maximum flexibility and optimal functionality with attractive design and, of course, economic feasibility.
The Makrolon sheets used for the roofs above the stands at the new National Stadium in Romania are 8 mm thick and up to 12 m long. These transparent lightweights emphasize the innovative design of the Lia Manoliu Stadium with its striking combination of flexibility, lightness and brightness.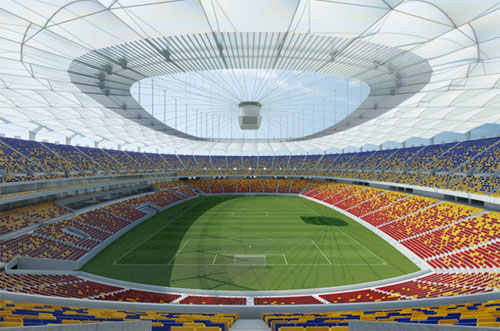 The roof design concept and installation of the roof above the stands were awarded to Hans Börner GmbH & Co KG., a German company specializing in plastic roof designs. The transparent solid Makrolon sheet, 8 millimeters thick and up to 12 meters long, are a perfect fit for the stadium. The sheets will cover the roof above the stands, a surface of 5,000 square meters. As at the Commerzbank Arena in Frankfurt, the folding roof, located centrally above the playing field, can be closed within 20 minutes, thus allowing games and other events to be held in any weather.