Light closure solutions for non-carbonated water
The bottlenecks for PET 29/25 and PET 26 were developed for still beverages, in particular for non-carbonated water running in parallel with PCO 1881. Both bottlenecks have now been established by CETIE as European standards. PET 29/25 is mainly to be found in Europe and the neighbouring regions whilst PET 26/22 achieves high levels of acceptance in Northern America and China, but have also been able to celebrate their first successes in Europe. Bericap offers the HexaLite® product lines 29/11 and 26/10 for these bottlenecks.
HexaLite® closures guarantee the exceptional leak proof nature of the container due to its specific closure design. The cut and folded safety strip guarantees high levels of product security as it breaks easily when first opened and thus makes the integrity of the product clearly visible to the consumer.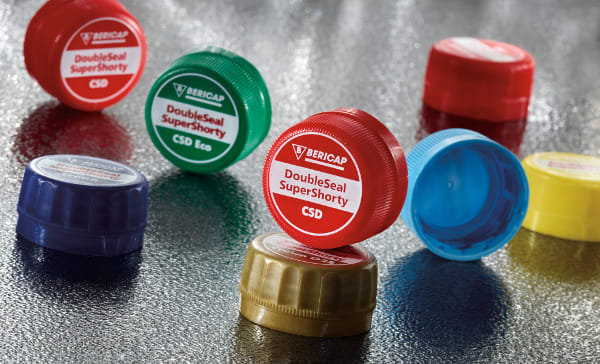 The market success of the Bericap Double Seal SuperShorty is seemingly irrepressible. The SuperShorty-Family has already been able to successfully establish itself throughout the world. Whether it is oxygen-sensitive beer in PET packaging, aseptic filling or the use of carbonated beverages: Bericap has the right product for each closure. PCO 1881 developed by the International Society of Beverage Technologists (ISBT) specially for the filling of carbonated beverages is very probably the most well-known lightweight bottleneck to have established itself on the market to date.
Bericap offers six different closures with different weights for the PCO 1881 bottleneck, upon request also in a customised design. The single part DoubleSeal SuperShorty Crown was established as the first version to be used in the beer market and can be equipped with a liner that absorbs oxygen to maintain the quality of the beer.
Additional DoubleSeal SuperShorty versions that also come in one part, such as the DoubleSeal SuperShorty CSD, and the weight-reduced DoubleSeal SuperShorty Eco were successfully launched onto the market for carbonated beverages (up to 8gr CO2 / l).
The DoubleSeal SuperShorty Still is available for still beverages. The DoubleSeal SuperShorty Still is also available for hot filling. This offers a significant potential for savings compared to conventional closures and bottlenecks.
The LinerSeal Supershorty rounds off the range of beverage closures. In addition to this sport caps were developed for the PCO 1881 bottleneck: The two part THUMB'UP and the 3 part PushPull sports closure have now been successfully launched on the market.