Krones PET lite 6.6 has proved its suitability for actual practice - lightweight bottle is far more than just a concept. PET lite 6.6 has left the concept phase behind it and demonstrated its suitability for actual practice.
It's currently the lightest PET bottle on the market for the 0.5-litre size. A concept that Krones AG has proven to function flawlessly both in the production process on a Contiform blow-moulding machine and in the filler itself. This container system, developed from the Nitropouch concept, has already won several packaging prizes. But would it actually function in the tough conditions of operational practice?
Does it satisfy the top-loading requirements in the warehouse and during transport? How long does the stabilising nitrogen remain inside the bottle? What sort of temperatures can the lightweight container stand up to? Quite a lot of sceptical questions, but just one unequivocal answer: it works. PET lite 6.6 has left the concept phase behind it and demonstrated its suitability for actual practice.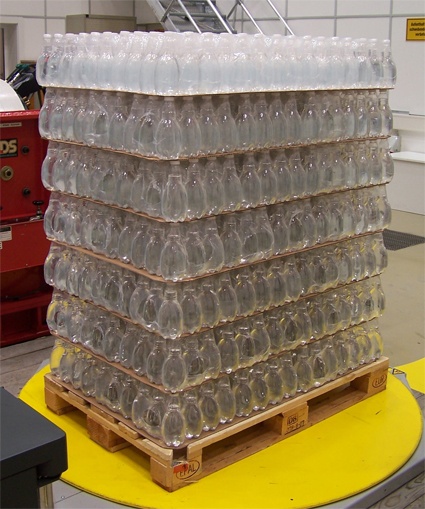 Krones commissioned a feasibility study from an experienced outside testing centre in Munich, which in some extensive series of tests produced an abundance of interesting results. One of them was that the low top-loading figure of under 30 kilograms was totally sufficient, and that in drop tests and simulated transportation under normal road conditions no damage occurred to the containers. This also applied for containers with an internal pressure of just 1 bar. From its original 1.5 bar, it decreases to this value after being stored for about three months at 20 degrees Celsius.
To ensure that PET lite 6.6 retains its nice-to-handle, firm feel, with concomitant consumer acceptance, the internal pressure created with nitrogen has to still measure at least 0.3 bar. This remaining minimal internal pressure will not be reached until four to six months have elapsed on the refrigerated shelves, depending on the starting pressure and the preceding storage conditions involved.
The tests produced surprisingly good results in regard to static and dynamic loads; all PET lite 6.6 containers tested proved significantly more flexible when subjected to dynamic forces than conventional containers with reinforcements.
Result: Krones' PET lite 6.6 concept, with a bottle weighing just 6.6 grams, is not just a theoretical model, like many other lightweight concepts currently being presented to the markets, but actually functions properly in the entire value creation chain of operational practice. It's ready for the supermarkets.