Duramotive Bayern GmbH, a German automotive components supplier, recently began using a PUR spraying process developed by KraussMaffei to produce acoustic carpet elements for cars and trucks.
Acoustic carpets are effective in reducing noise levels in the passenger compartment for a quieter, more comfortable driving experience. The soundproofing PUR layer has a high barium sulphate content. It is sprayed onto preformed carpet elements in an open mould using a special spray mixing head. The spray head is mounted on an industrial robot which follows a software-controlled spray path.
This method has distinct cost and process advantages compared with other methods of applying soundproofing layers. The spray process reduces material consumption, it`s extremely flexible, and mould costs are low.
The soundproofing layer is applied in a very precisely and under close control. The thickness of the layer can be varied, making it possible to spray adjacent areas with different coating weights. Application of the PUR-mix can be restricted to areas where soundproofing is required to minimize material consumption and reduce part weight.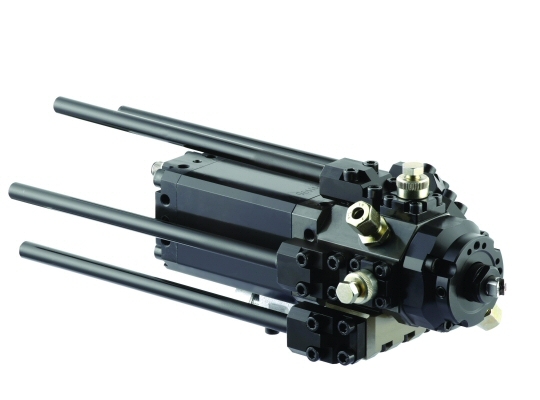 In addition, the open mould spray process is extremely flexible. The robot can move the spray mixing head in any direction and at any of a range of speeds, enabling it to coat parts with varied and complex geometries. This is of key importance in view of the automotive industry trend to giving car buyers huge individual choice in the features they want in a new car. Another major benefit is that the spray process uses relatively low-cost moulds. The simple moulds with no complex features merely provide a surface on which the carpet element is fixed by a vacuum.
The abrasive nature of barium sulphate is a challenge for the PUR metering system. To keep wear to a minimum, the abrasive component, the polyol/barium sulphate mix, is metered using piston metering. KraussMaffei`s Tandem Hybrid metering machine feeds the abrasive component by means of two pistons moving anticyclically to deliver a steady material flow.
The highly-filled PUR systems used in soundproofing are fairly difficult to mix. To solve this problem, the mixing head is designed for ?T` mixing. This means that the polyol component is discharged into the mixing chamber through two nozzles opposite each other. The jet of isocyanate hits the polyol stream at right angles. This mixing-head design achieves excellent mixing quality and a stable spray jet, even when materials are processed at relatively low pressure and low temperatures. The advantages are twofold: a wider processing window and less stress on the material.