After a successful K show, battenfeld-cincinnat now introduces its new developments to the Russian market at Interplastica in Hall Forum, FB48. The focus will be on pipe and profile co-extrusion with the proven solEX, twinEX and conEX extruders and a range of new pipe dies for multi-layer applications, as well as on thermoforming sheet extrusion.
battenfeld-cincinnati offers its customers complete line solutions, optimized for energy-efficiency, long service life and high performance. battenfeld-cincinnati also offers upgrades for existing extrusion equipment to optimize energy consumption and improve wear protection.
Extruder concepts for high output and efficient processing
The proven solEX single-screw extruder series is designed for high-performance HD-PE and PP pipe extrusion, with outputs from 240 to 2,200 kg/h, depending on application and material. The twinEX parallel twin-screw extruder series has a processing length of 34D and offers outputs between 115 and 2,500 kg/h, depending on application and material. The conEX conical twin-screw extruder series covers an output range from 30 to 330 kg/h.
A variety of co-extrusion solutions are available from battenfeld-cincinnati for both pipe and profile extrusion. For profiles, the company introduced a piggyback set-up at K2013 that places the co-extruder on top of the main extruder. It is extremely space-saving and user-friendly, featuring only one control cabinet for both extruders and one central plug to connect the die.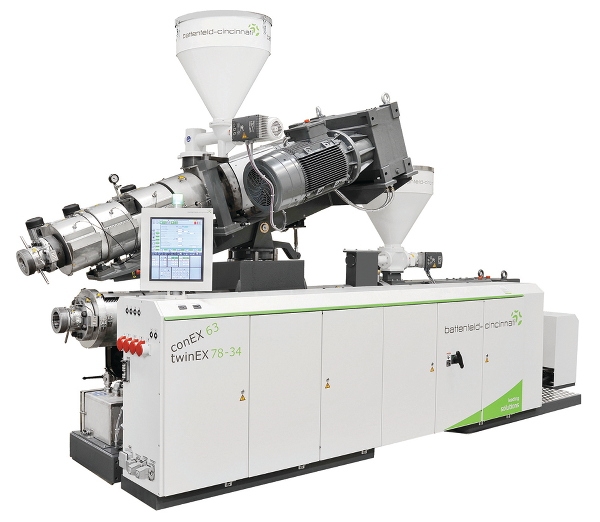 The space-saving "piggyback" configuration was introduced at K 2013
New equipment for PVC and PE multi-layer pipe extrusion
At K 2013, battenfeld-cincinnati introduced two new die models for PVC processing, the spider 200-3 (dimensions from 32 to 200 mm) and the spider 400-3 (dimensions from 110 to 400 mm), with throughputs from 350 to 1,200 kg/h. The dies feature excellent layer thickness distribution with narrow tolerances as well as short dwell times and can be easily converted for 2-layer applications.
Another new pipe die is the helix 63-5 VSI, which is laid out for 5-layer PE pipes with EVOH barrier in diameters of up to 63 mm. The die offers a short dwell time of the EVOH inside the die and optimal distribution of thin layers with extremely narrow tolerances. Due to its modular design it can be converted into a 3-layer pipe die and easily disassembled for cleaning.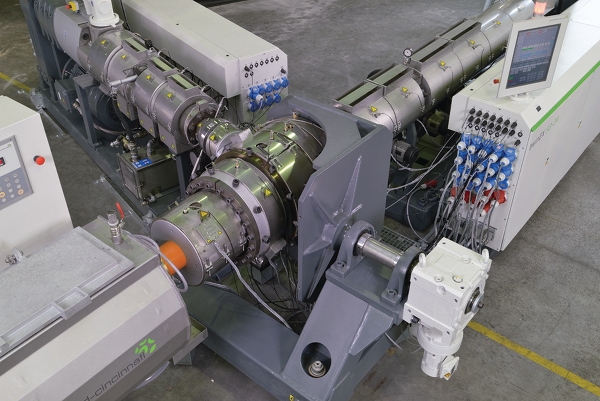 3-layer PVC pipe co-extrusion line with the new spider 400-3 pipe die