battenfeld-cincinnati also showed its new 4-layer pipe die with proven EAC (efficient air cooling) internal pipe cooling combined with a new, innovative "active melt cooling system". The helix 630-4 VSI-T+ reduces the overall length of the line and ensures high product quality by significantly reducing sagging. This makes it possible to produce pipes with even larger wall thicknesses at reasonable cost.
In addition, battenfeld-cincinnati introduced its new, flexible RTA 250+ pipe cutter at the Open House during K. The RTA 250+ can cut both PVC and PE pipes with diameters between 32 and 250 mm and wall thicknesses of up to 50 mm at a maximum speed of up to 30m/min.
High performance for thermoforming sheet extrusion
battenfeld-cincinnati's Packaging Division showed the Multi-Touch roll stack in production for the first time at the Open House in October 2013. The Multi-Touch roll stack impressed visitors with absolutely even cooling and calibration of the sheet on both sides with extremely narrow thickness tolerances. This is possible due to the innovative set-up with two large chill rolls followed by five post-cooling rolls.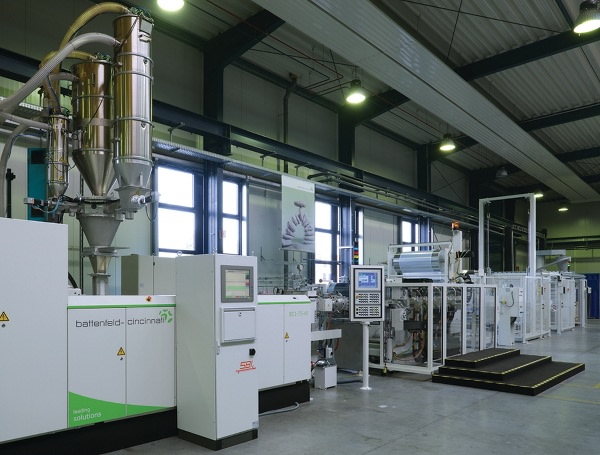 PP sheet extrusion line with Multi-Touch roll stack
In 2013, battenfeld-cincinnati also received an order for the fifth pelletizing line from Metal-Plast, Świebodzice (Poland), one of the largest European PVC window re-pelletizing companies. "We have been operating with extrusion equipment from battenfeld-cincinnati for almost 8 years", explains Metal-Plast's Managing Director. "After also purchasing some equipment from other suppliers and testing it under production conditions, we came back to the technology from battenfeld-cincinnati every time. We were particularly satisfied with the equipment's long service life under tough production conditions and its easy operation." The complete line is equipped with a BC 2-92-28V twin-screw extruder and reaches a regrind output between 500 and 800 kg/h.