It looks like glass and it feels like glass - but glass it isn't and that's why it offers such significant advantages. We're talking here about the Rebhan packagings made of Glass Polymer, an innovative plastic from Eastman Chemicals. What does Glass Polymer mean, we hear you ask? Well, it's a modified copolyester and it was developed specifically for the production of thick-walled glass look-alike plastic containers.
With new packaging made of this special material, we can combine the advantages of plastic with the value and aesthetics of glass to an impressive effect.
That special qualities such as high transparency and excellent break resistance speak volumes for Glass Polymer is easy to understand. More surprising is the fact that thick-walled PET bottles also boast decisive cost advantages over glass - particularly when articles are coloured or when decorations are requested. The possibility of being able to realise colours with quantities as low as 10,000 is another big advantage for Glass Polymer packagings. Generally speaking, the weight factor also means lower logistics costs as compared to glass.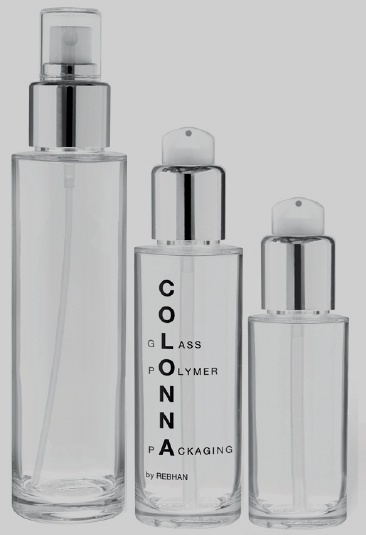 An art in its own right, the production of top-quality bottles demands much experience and know-how. The method used for the manufacture of thick-walled PET bottles is extrusion blowing.
The spectrum of possible applications with the Glass Polymer packagings is wide. Typical uses are found in personal care, beauty and cosmetics products. We are cooperating on several projects with big-name customers at the top end of the cosmetics market.
The Glass Polymer standard line by Rebhan consists of the following designs: 30 ml Oval, 50 ml Round and 50 ml Square. A completely new range is added currently: Colonna is available in 30 ml, 50 ml and 100 ml. This classic cylindrical bottle can be combined with different caps and pumps.
By the use of different decorative techniques such as screen printing, hot foil stamping and lacquering, the packaging receives a brand-specific image that ultimately makes it unique. As always, all Rebhan products are made in-company from a single source.