However, the SAVE FOOD campaign was not alone in meeting with lively visitor interest. The special themes INNOVATIONPARC PACKAGING and METAL PACKAGING PLAZA proved to be extremely popular.
In its five different shops on the themes of Health, Meaning, Aesthetics, Simplicity and Identity, INNOVATIONPARC PACKAGING under the motto of "Quality of Life" brought together companies from across the value chain. Developed specifically for the special show, best practices and visions for the future that had been devised beforehand in a concerted team effort were presented by these shops. This concept not only went down well with visitors, but was also highly commended by the participating companies. It created a unique forum, they claimed, that offered space for constructive talks and creative ideas. Many visitors had also been well prepared and approached individual companies with specific requests.
The special theme METAL PACKAGING PLAZA, newly introduced at interpack 2011, was also devoted to dialogue and information. Numerous presentations were held in the central lecture forum, while suppliers and potential customers met in the lounge to discuss metal packaging. The METAL PACKAGING PLAZA thus became a central meeting place for anything to do with metal packages at interpack, much to the satisfaction of the participating associations for metal packages, VMV and Empac.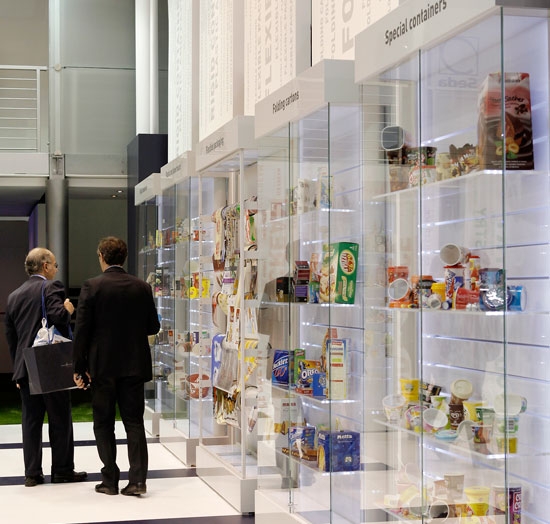 Visitor statements:
Elisabeth Roggenbuck, Rovema
- We had good, qualified visitors. What I kept in mind especially is that there were only a few customers who "just looked around". Much rather, we had a high number of definite project demands. For us, this is a fantastic possibility, of course. The internationality here at interpack has again been impressing."
Siegfried Bullinger, Bausch und Ströbel
- We had many people from North Africa, the Arabic countries and from Russia, as well as from Asia. We have 90 percent export, so the high internationality is important to us. Interpack is the biggest and most important trade fair in our field, and we are again satisfied with the great organisation.
Siegfried Drost, Uhlmann
- This interpack has even been better than the last one. We have been able to talk with our customers about very precise projects. Interpack is indeed the central meeting point for this industry, and I think it has gotten better than Achema. Uhlmann has been participating since 1978 and we have always been very satisfied. We will come back next time, and at least with a stand same size as this year's, if not even bigger!"
Luc Serneels, Russell Finex NV
- We have been here for more than 20 years, and this year, interpack has again confirmed to be a great show. The biggest advantage? We can reach the whole world with this one show, instead of having to go to different smaller shows around the globe. Thumbs up for that!"
Marion Stolzenwald, Gerresheimer
- Gerresheimer has been and will be a constant exhibitor at interpack. For a company like ours, the show enables us to reach many customers and partners. Thus it is a great platform for distribution. Much better than Web 2.0, by the way, because business is still done face-to-face.
Sergio Beneventi, Italian Coesia Group
- We brought a complete chocolate production line. And we had more than 700 registered visitors per day. But really, I think we talked to more than 1,000 people daily! The visitors were very international, and we signed contracts every day. We can surely say that interpack is the most important trade fair for us!