International plastics recycling industry gathers at the opening of the Erema Customer Centre and presentation of the technical innovation COREMA.
The Erema Customer Centre at the headquarters of the world's leading manufacturer of plastic recycling systems was officially opened in Ansfelden near Linz. Some 400 invited guests from all five continents came to this high-profile event and the launch of a technical innovation on the recycling and compounding market – the new product COREMA.
The grand opening of the Erema Customer Centre was the highlight of the Erema Discovery Days 2012 during which international customers and Erema agents had the opportunity to experience the global market leader's technological developments first-hand.
Manfred Hackl, one of the two members of the managing board at Erema, delivered the welcoming address in front of the 400 international guests. Besides a review of the 29-year success story of the pioneer recycling company, Mr Hackl explained how Erema's philosophy has changed from a primarily technological approach to a strong focus on the quality of the end product, which is what prompted them to set up the Erema Customer Centre.
In his keynote speech Ton Emans then went on to emphasise the importance of application- oriented quality enhancement in the recycling sector as we can also expect plastic waste to increase significantly in volume in the future.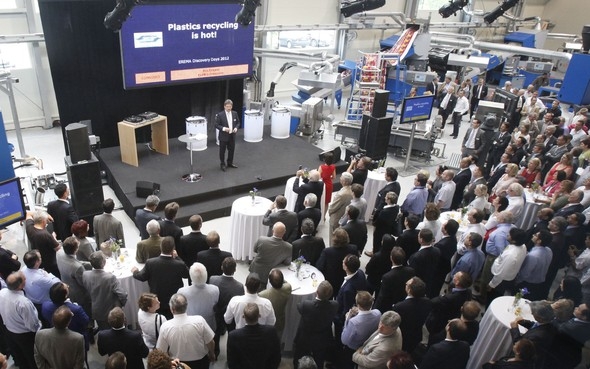 This was followed by additional highlights with international guest speakers and experts from around the world giving presentations, the Erema Discovery Tour through the company's premises and, above all, the demonstrations of the seven what are currently the world's most modern plastic recycling systems in the new Erema Customer Centre. The quality of the recycled pellets produced for processing to make the end product was verified there and then on an in-house cast film plant and an injection moulding machine.
Among the guests: Upper Austrian state governor Dr. Josef Pühringer, Ton Emans (President of EuPR – European Plastics Recyclers, European promoters of the plastics recycling industry) with 70 EuPR members, Erema customers from around the world, all international Erema agents, long-standing cooperation partners of the company, interest groups from the region (universities, technical colleges etc.) and media representatives.
The Erema Discovery Days 2012 proved to be a meeting place for the "who's who" of the international plastics recycling industry and made the event a complete success for the hosts.