MAS, the Austrian manufactured, presented at 12th International Fair of Plastics Processing Plastpol, which was held on 27 - 30 May 2008 its new drying and cleaning plant for reprocessing of plastics. Plastpol is one of the largest exhibitions dedicated to the plastics industry not only in Poland, but also in Eastern Europe.
MAS drying and cleaning machines are the modern alternative to wet cleaning within the recycling process. Cleaning of plastic parts is effected with tried and trusted DRD technology (Double Rotor Disk), developed by Ekuma (Pucking, Austria). It combines a cleaning centrifuge and thermal drying in a single machine to guarantee a clean, dry process that is easy on the material and produces consistently high end product quality.
MAS drying and cleaning systems support versatile use. They are ideal for any kind of soiling that is removable by friction such as sand, soil, paper or fibres: stretch films, agricultural films, industrial waste, plastic fibres, hollow bodies, cups.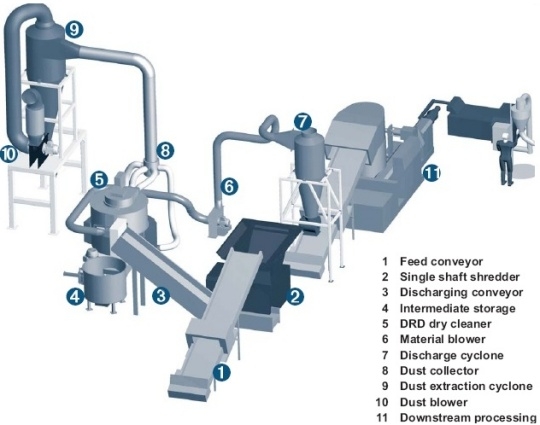 DRD is the only technology that washes without using water. This means far lower costs per kilogram of cleaned material in comparison to wet washing plants. DRD systems do not need water treatment or special authorization and do not cause additional waste water disposal costs.
MAS drying and cleaning plant consists of a single shaft shredder, material storage, dry cleaning unit and conveying units including installation and connection plans. All components are well synchronized and have adequate reserve capacity. They will even work with difficult plastics such as stretch films, thus extending the recycling plant's processing spectrum.
MAS drying and cleaning systems are aslo fully automated and controlled by an easy to use PLC system. Power demand and retention time can be adjusted according to moisture content and degree of contamination. Sensors stabilise the process in the event of fluctuating moisture content of the contaminated plastic.
The processing line integrated with further processing produces major benefits like: higher extruder throughput thanks to preheated material, stable process because of low and constant residual moisture, improved pellet quality due to constant flake properties, extended screen life in melt filter and longer lifetime of screw and barrel of the extruder.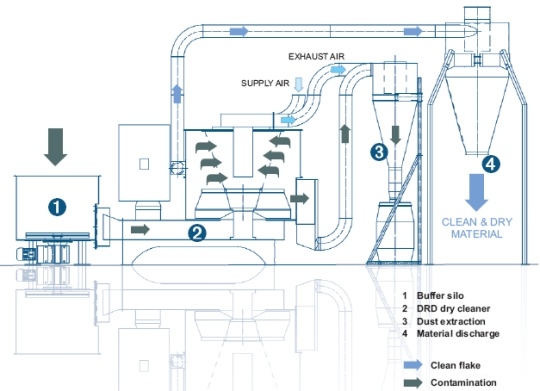 After shredding of the plastic waste, the dry cleaning unit is continually fed from the buffer silo with batches of up to 60 kg. The cleaning process is completely dry based on the tried and trusted DRD system: The plastic material rotates in a cylindrical chamber, is engulfed in hot air and kept in suspension. Turbulence ensures an excellent drying effect (constant average moisture content of 2 %). At the same time, impurities such as sand, soil, paper or fibres are separated off by screens. The gentle process and the short dwell time contribute to preserving material quality.
More than 40 years of experience in plastics machinery construction (especially in the field of extruders) and a 30 year history in recycling are reflected in the development of MAS drying and cleaning systems. The company constructs entire systems for dry processing of old plastics over the entire recycling process - from bales to granulate.