Grind Guard Technologies, LLC, Clarkston, Mich., has introduced a unique dental device designed for the treatment of bruxism – the tendency to clench and grind teeth while sleeping. The mouth guard is made of Udel P-1700 polysulfone (PSU) resin from Solvay Advanced Polymers, LLC, for high strength, heat resistance, and biocompatibility.
GrindGuard is a cost-effective dental solution that offers greater comfort and better overall effectiveness than more expensive over-the-counter devices and prescription options from dentists, according to its inventor, Dr. Joe Pelerin, a Michigan-based dentist for over 35 years.
The mouth guard has a transparent injection molded outer shell made from Udel PSU resin. The 0.2-mm-thick shell features a novel 3-mm-high central power bar located at the midline of the mouth guard that focuses pressure on the upper and lower teeth and releases the stimulus for clenching. Central bite force concentration on the front teeth has been shown to create a nerve reflex which can reduce biting intensity by up to 60%. In a secondary operation, the Udel PSU outer shell is insert molded with a polycaprolactone thermoplastic, creating a perfectly mated assembly.
The polycaprolactone softens when the GrindGuard is placed in hot water which has been heated for two minutes in a microwave. The polycaprolactone softens at 54°C and permits a precise fit to the teeth. Udel PSU easily withstands the hot water and does not deform or melt due to its high heat distortion temperature (HDT) of 78°C.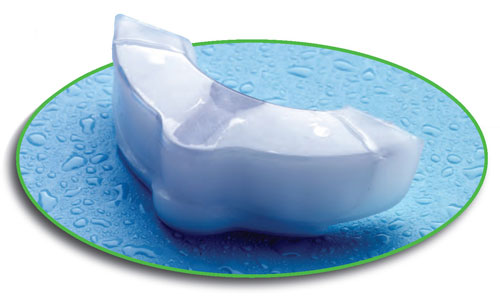 GrindGuard - dental device designed for the treatment of bruxism
The new GrindGuard, manufactured by injection molder Maple Valley Plastics, Brown City, Mich., has received clearance from the U.S. Food & Drug Administration (FDA) and is available for $50.