Creating a Healthy & Comfortable 'Second Home' with High-tech Green Materials
People are paying more attention to how cars, their "second home", may affect their health.The long-glass-fiber-reinforced polypropylene composite developed by Shanghai Pret Composites Co., Ltd. has low odor and volatility, which enhances the use of the material for use in the manufacture of auto parts, such as dashboards, center consoles and car doors.
Guangdong Yizumi Precision Machinery Co., Ltd.'s ReactPro+Hybrid Manufacture System cleverly combines polyurethane (PU) and injection molding materials, improving productivity with a single step, namely in-mold coating, while avoiding the pollution caused by spray painting. The system can produce thinner PU products at a lower cost, and those components also have better appearance and texture, higher scratch resistance, and even some self-healing properties. Moreover, it can be used with 3D printing technology, further expanding the possibilities of injection molding products.
The use of aesthetically pleasing materials, low volatile organic compounds (VOCs), and spray-free materials and processes in automotive interior parts are all intended to ultimately improve overall passenger experience and comfort. Asahi Kasei Corporation will present a concept electric vehicle (EV) - named AKXY, meaning "Asahi Kasei x You (customers)" - that was designed based on the platform of EV manufacturer GLM. The concept EV uses as many as 27 materials, products and integrated systems from Asahi Kasei. The company plans to spotlight technologies that help to replace steel with plastics, assist with lightweighting, and enable the use of "artificial leather" to improve passenger comfort.
BASF (China) Co. Ltd., meanwhile, will display three electric vehicles developed in collaboration with Guangzhou Automobile Group Co. Ltd.'s Research & Development Center. These models adopt several of BASF's innovative materials and solutions, and have a futuristic design, tailor-made for Chinese car owners with diversified lifestyles.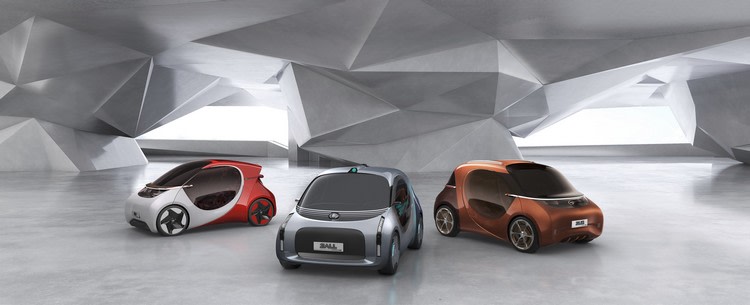 BASF will display three EVs. These models adopt several of BASF's innovative materials and solutions, and have a futuristic designs.

New Materials & Processes Promote Shared Vehicles, Lightweighting
As the sharing economy becomes increasingly prevalent, health-related concerns related to shared vehicles have aroused heated discussions among consumers.
Lotte Chemical's antimicrobial material evermoin® can effectively inhibit bacterial and fungal growth and retain antimicrobial ability and stability, thereby helping to minimize any negative health impacts of having various individuals using the same vehicles.
Shenzhen Wote Advanced Materials Co., Ltd. says its PP+EPDM-TD20 material effectively addresses the problems of surface defect and shrinkage in thin-wall injection molded parts made from traditional plastics. The material has been successfully used in various parts of Geely Bin Yue, including in its 2.0 mm frame and back doors, reducing the total weight by almost 20%. Shared vehicles and lightweighting will be major focuses of those designing and manufacturing future vehicles.