Bta & Hispack will be held from 11 to 15 May 2009 at the Fira de Barcelona`s Gran Via venue in a total surface area of 90,000 m2 and will have 3,500 exhibitors. Approximately 60,000 professional visitors from around the world will gather at this trade fair with the aim of finding out about a wide range of technology and machinery products capable of meeting those needs present in the food and beverage production chain - from the ingredient to the packaging via the production process.
Manufacturers of meat and its derivatives, fruit producers, vegetables and tinned goods, wineries, restaurateurs... Professionals from each and every food and beverage industry have a scheduled appointment at Bta - Barcelona Food Technologies - one of the most important machinery, technology and ingredients trade fairs in Europe. The twelfth edition of Bta will take place in the modern facilities of the Fira de Barcelona`s Gran Via venue and will be held in conjunction with Hispack, the International Packaging Show. The combination of these two great exhibitions will result in the birth of the greatest international business platform of the food and beverage technology and packaging industry - Bta & Hispack.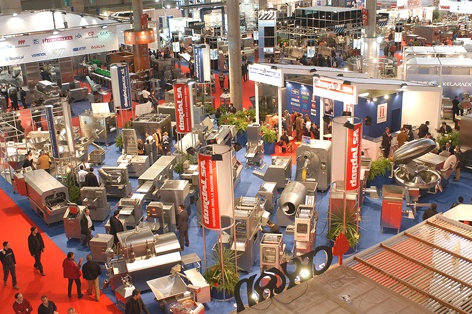 Teams for all the food processes, from industrial and commercial freezers, quality control systems, cleaning, hygiene, safety and environmental protection, packaging machinery, functional products, food additives, technological adjuvants. The variety of products presented in Bta & Hispack has given rise to a pioneering trade fair model in Spain.
The project Hispack & Bta is betting strongly in terms of internationalization tending ties in countries closer culturally and geographically as Morocco, Tunisia, Algeria, Egypt, Portugal, France and the countries of Latin americas linguistic closeness. While Hispack & Bta is an event of great attraction for visitors worldwide to find everything you need for your manufacturing process, discover the latest trends, new products and machinery, establish business relationships of interest, etc.
More than a year before the exhibition takes place, the most important national companies have already reserved a space in Bta & Hispack, and those companies crossing borders to arrive will also not be missing from the event. This is indicated by the fact that more than half the previous exhibitors were foreign companies coming from the five continents, lead by the most prestigious and recognised brands.
The wide-range of products in Bta, Barcelona Food Technologies, are distributed over diverse monographic exhibition areas: Tecnoalimentaria, the international Show for machinery and technology for the industry and food trade in general; Tecnocárnica, the international Show for machinery, technology, supplies and equipment for the meat and related industries and Ingretecno, the international Show of Intermediate Food Products for the food industry. The explosion of functional foods in the shopping basket has exponentially increased the demand for intermediate food products.