Hispack 2012

Hispack, International Packaging Exhibition
Organizer

Fira Barcelona Avinguda Reina Mª Cristina s/n 08004 Barcelona, Spain

Phone:

+34 93 233 20 00

Fax:

+34 932 332 198

www:

e-mail:

hispack@firabcn.es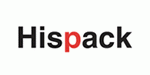 Hispack, organised by Fira de Barcelona in collaboration with Graphispack Asociación, will present packing and packaging machinery and equipment, design solutions, point-of-sale (POS) advertising, new materials and manufacturing processes for packaging, and a wide range of containers and packaging for manufacturing and consumer goods sectors.

The show is significant not only for food and beverage industry professionals, but also those in the pharmaceutical, chemical, cosmetics, perfume, textile and car industries, among other specialities. In addition, Hispack will offer a sneak peek at new trends, with technical conferences presenting the latest advances for manufacturing more efficient, sustainable and creative containers to meet new consumer needs.

In 2009, 75,6% dof the major corporate clients in the packaging industry in Spain visited the show. Visitors are the decision-makers when it comes to purchasing. More than 76% are managing directors or marketing and production managers. hree out of every four visitors represent leading companies with international operations and the main consumers of packaging in Spain.

Previous editions