Bosch Packaging Technology launches the new mandrel wheel package maker PME 4061. It is the first machine of its kind to allow for the high format flexibility needed for point-of-sale differentiation through pack style versatility.
The PME 4061 is ideal for sugar and flour applications and can facilitate high output of up to 100 packages of sugar and 80 packages of flour per minute. The machine's innovative open design ensures quick changeovers and therefore lower downtime. At the same time, the machine's patented Clean 90 hygienic design ensures a clean production environment.
With the PME 4061, manufacturers can use a number of bag styles in sizes ranging from 60 x 40 x 80 millimeters to 140 x 100 x 250 millimeters as well as a variety of top closures. Three-dimensional format changes can be quickly realized in only four hours with just two operators as whole format units can be exchanged instead of single parts. In previous generations of mandrel wheel package makers, changeovers required approximately 16 hours and three operators. Also, the machine's open design allows for easy access to the mandrel wheel, bucket chain and corresponding screws, contributing to additional time savings during changeovers.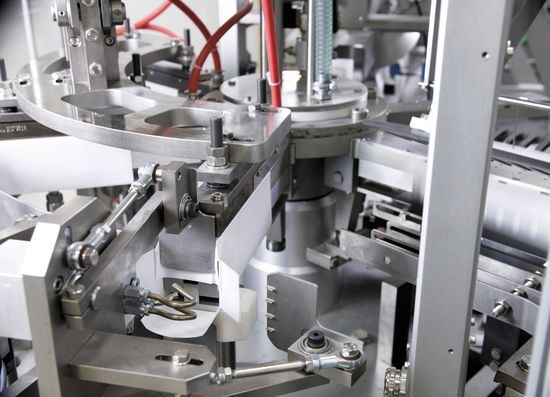 Due to its integrated electrical cabinet, the PME 4061 allows for quick initial operation. The machine has a small footprint with reduced cable lengths. The cabinet also divides the machine from the production area and therefore ensures less opportunity for contamination. Precise folding and high pressure by the mandrel wheel result in good bag shape and stand-ability. An integrated vibration panel reduces the filling volume for compact bags, resulting in material savings and efficient secondary packaging. An inline weighing system ensures high weight accuracy.
To assure a clean production environment, the PME 4061 features Bosch's patented Clean 90 hygienic design with a drop pan beneath the bucket chain. Product remains can be easily removed as they do not fall to the floor, but gather in the collection pan. Due to the 90° rotation of the transport bucket, the new mandrel wheel package maker's filling- and closing unit has a lower height compared to previous machines to improve ergonomic handling. Manufacturers also benefit from its integrated extraction unit that enables quick production and shift cleaning.
"In the past, flour and sugar manufacturers were mainly concerned with output.", said Michael Voeth, Product Manager, Bosch Packaging Technology and explained "Changing market trends have led to an increased need for flexibility to enable stand-out pack styles to create competitive advantages." The new mandrel wheel package maker helps manufacturers to achieve both needs through high flexibility and output.
A complete solution, the PME 4061 is in line with Bosch's "one-stop-shopping" concept. The machine includes the product infeed, inline weigher and package maker as well as the filling unit and packaging outfeed.