Borealis, a leading provider of innovative, value creating plastics solutions, is helping Volkswagen Group (VW) raise the interior quality and visual appeal of its Skoda Fabia Roomster generation.
High-performance Daplen thermoplastic olefin (TPO) polypropylene-based compounds were chosen by Skoda`s Tier One suppliers Faurecia and Cadence Innovation because of their ability to deliver a step change in aesthetics and meet strict requirements regarding production- and emission-related targets.
Attaining a high quality perception of the Fabia interior surfaces is a top priority for Skoda. Haptics, scratch resistance levels, low gloss, no odour or fogging and excellent colour performance for consistent, accurately-aligned parts are fundamental considerations, with the Tier One suppliers working closely with Skoda to reach the desired results.
For the dashboard and trunk claddings, door panels and visible structural parts, the challenge was met with three Borealis Daplen grades. Borealis` material and technical support for the Tier One suppliers enabled the development of parts that exceeded Skoda specifications and delivered significant improvements in scratch resistance, gloss and overall surface quality. In addition, Borealis provided Computer Aided Engineering Design (CAED) support for the door and trunk cladding tooling stage to ensure a more stable processing window and optimise the final surface quality.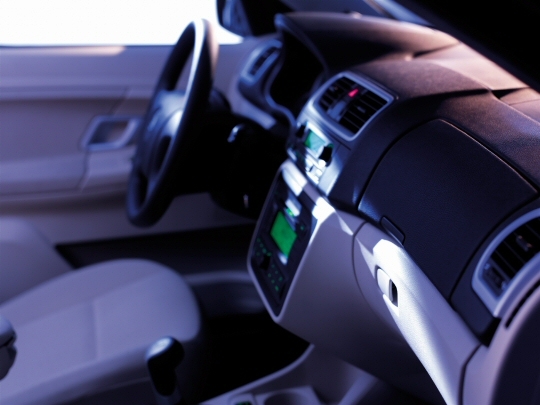 Daplen EE189AI, a 17% talc filled grade developed especially for the automotive industry, was the preferred choice of French supplier Faurecia for the dashboard and trunk claddings. Its excellent scratch resistance, low gloss and consistent quality made it well-suited to Skoda`s request for a smooth finish on the lower dashboard and grained version for the upper section. The need for extra impact strength and stiffness in the integrated instrument panel area was met with Daplen ME268AI, a 20% mineral filled grade.
For the door panel, impact resistance is a critical safety requirement. US supplier Cadence Innovation selected Daplen EE158AI, a 13% talc filled grade, for the interior surface cladding because of its combination of high stiffness and very good impact behaviour. The material`s outstanding scratch resistance further added to its appeal for this application.
All three grades ensured low thermal expansion for the finished parts, delivering a consistent high quality fit between parts. Overall ease of processability contributed to a reduction in scrap rates, enabled thinner wall sections to be used and allowed faster moulding speed to meet Skoda`s demands The lower scrap rate alone provided a cost saving of 1.5%, while Borealis light weight Polypropylene provided a weight reduction of 5%, contributing to improved fuel consumption.
- Consumer expectations and VW Group`s brand profiling for Skoda have risen significantly in recent years - comments Franz Zängerl, Manager Business Development Automotive at Borealis. - By using Daplen materials, the OEM was able to successfully meet its priorities regarding higher quality while the Tier One suppliers benefited from ease of processing and a reduction in scrap rates to bring about an improvement in their overall production economy.
We are pleased to see our innovative Daplen materials continue to deliver the high quality and specific performance attributes required by the major automotive manufacturers and the Tier One suppliers serving this industry. The Fabia dashboard is produced by Faurecia at its plant in Mlada Boleslav, Czech Republic, next to the Skoda assembly plant. Cladding for the doors and trunk are produced by Cadence Innovation in Liberec, also in the Czech Republic.