Improved value creation for the processor: further optimisation of electrical and hydraulic machine concepts.
At the Interpack in 2011 in Düsseldorf, Bekum will showcasing the latest generation of Eblow and Hyblow series machines, which feature the latest developments of the worldwide proven BM models from the Bekum product portfolio. The defining features of the latest generation of blow moulding machines are the completely new closing system, which was developed in 2010, and a modular design.
Bekum's core theme at the Interpack will be process reliability with high output levels. To optimise process reliability and increase output, it was necessary to perfect the precision and repeatability of machine motions with the aim of reducing machine cycle times. One significant advance in increasing productivity is the possibility of equipping the machines with dual moulds and using the option of "top and bottom" calibration to double actual machine output. This results in significant value creation for processors in the packaging industry.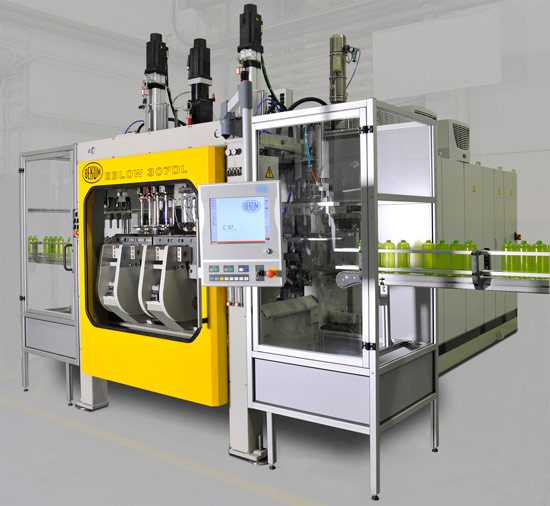 A new product for Europe is the BA 25 blow moulding machine for the waste-free manufacturing of 5-gallon water containers. The machine can be used for the high output production of high quality stacking canisters, technical parts and very transparent 5-gallon water containers.
Bekum's current programme of modular solutions covers the complete spectrum of possible drive types. European processors can choose from different model series, depending on the drive type they require: BM series (hydraulic); BA series (hydraulic); Hyblow series (hydraulic); Eblow series (fully electric).
Another highlight is that the BM X07 machines of the new generation are available in two versions: with a traditional, hydraulic closing system and as a fully electric EBLOW version with many great advantages.
The new electrical concept of the Berlin-based company is obviously very popular – according to the company's information, customer acceptance is high and these machines are increasingly in demand. In the first quarter of 2011, Bekum has already sold two Eblow series machines to a German plastics processing company for the production of bottles for cosmetic, pharmaceutical and medicinal products.
The volume of these bottles ranges from 5 ml to 3,000 ml. The fully electric Eblow 307 DL is used for the multiple-layer process in the manufacturing of bottles for cosmetic products; the fully electric EBLOW 407 D (twin-station blow moulding machine) is used for complex medicinal moulded parts with materials which are difficult to process.
Electrical Eblow X07 series leads the way
The optimum formation of the article is ensured on these fully electric blow moulding machines by many features, including the constantly high and accurate force distribution (closing force of between 80 kN to 240 kN) during the squeezing process.