Sidel announces the world`s first Combi dedicated to bottling beer in PET. This machine, which integrates blow molding, filling and capping functions, was previously reserved for water, carbonated soft drinks and dairy products. It has proven to be an effective solution, with output rates of up to 61,000 bph.
Since the summer of 2008, the first two Sidel Combis for beer have been in production at two SABMiller Group breweries in Eastern Europe.
Sidel`s approach has always been to adapt its offer to specific market needs and to commit to localized solutions. In Eastern Europe, beer consumption is booming. PET packaging represents 9% of this market characterized by very specific needs: to package beer at the lowest possible cost, with high annual production volumes, in bottle formats up to 2.5 liters, and for a shelf life of less than two weeks on average. For this type of packaging, neither glass nor plastic with barrier coating is necessary. A simple PET bottle is sufficient. The Combi for beer is fully suited to these production requirements.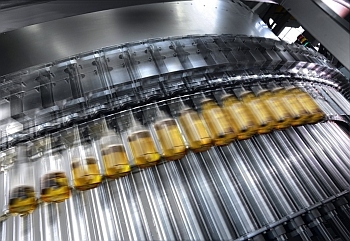 Initially designed in 1997 to package still water, the Combi family was later expanded to produce carbonated drinks and sensitive products. The Combi solution incorporates all major steps in a single system - blow molding, filling and capping - for packaging beverages and other liquid products in PET bottles. The Combi guarantees final product quality, while ensuring unrivaled productivity and efficiency at all output rates. Production speeds can reach 61,000 bottles per hour for 0.5-liter bottles, and 24,000 bottles per hour for 2-liter sizes.
A major requirement for brewers is not to alter the quality of this highly sensitive product. This requires advanced technology for hygiene. The Combi`s hermetically sealed enclosure contributes to package hygiene and preserves the beer`s flavor and aroma during flash pasteurization. The Combi takes all parameters into account in order to control the production environment and to reduce the risk of bottle contamination: preform and cap treatment, functional proximity between blow molding and filling, elimination of intermediate conveyors, continuous positive transfer by star wheel, and a clean environment in the transfer zone.
The Combi`s filling section includes technology that has been specially designed for packaging beer in PET: Sidel`s Eurotronica FM-LT filler which ensures precision filling and a minimal presence of oxygen. Volumetric filling uses magnetic flow meters to ensure filling accuracy. Beer is filled through a long tube that reaches almost to the base of the bottle. Once the tube`s end is submerged in the beer, filling is turbulence-free, which reduces oxygen absorption.
Another important feature for brewers is the Combi`s small footprint and its ease of integration. The Combi eliminates hundreds of meters of conveyors and results in a far smaller footprint. Operating costs are lower than with traditional lines, water and power consumption is decreased and, as a result, packaging costs and environmental impact are also reduced. Finally, because bottles are transferred by the neck, the Combi enables use of lightweight bottles and offers a wider range of possible shapes. This opens up innovative bottle design possibilities for brewers, giving them a distinct marketing edge in the traditional beer market.