China has developed into a global super power with giant strides. According to estimates of the German professional association VDMA Chinese machinery manufacturers took the lead for the first time in 2009.
The packaging industry has also posted stable growth for years and countries such as India and Vietnam hold exciting potential.
Mechanical engineering in China generated sales worth EUR 271 billion in 2009. In this ranking China is followed by Germany with sales of EUR 233 billion and the USA with EUR 231 billion. According to VDMA estimates machinery and plants worth EUR 1.6 trillion were produced worldwide last year. At present, it is assumed that global sales will drop by about 1 tenth this year. For Western Europe turnover is expected to fall by 13 % and for Japan by 25 %. In the USA a 15% decline can be expected.
While consumption habits and, hence, the demands made on packaging, are changing rapidly in China and the standard of living is rising continuously the packaging industry is developing in lockstep. According to estimates, approximately 36 million tons of packaging will be produced here in 2015 – the lion's share for the food industry. Flexible packaging is experiencing the fastest growth but there are also bright prospects for Chinese pharmaceuticals packaging and label production.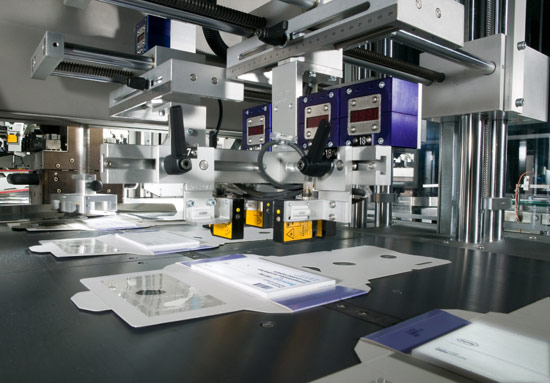 Other Asian countries have also been part of the game for quite some time now. According to data furnished by Germany Trade and Invest, the market volume of the Indian packaging industry amounts to about US$ 16 billion and has constantly grown by approximately 15% year on year. Potential, however, is expected to be substantially higher and estimates say that the pace of growth will accelerate to between 20 % and 25 % over the next years.
As India's economy grows the demand for packaging rises. There is a constantly rising demand particularly for food and (fast-moving) consumer goods. As a result the highest demand for packaging and the associated equipment will come from the food processing industry at 50 % and from the pharmaceutical industry at 25 %. Needless to say, the financial crisis has also left its mark on India but it has only put a relatively moderate damper on the Indian packaging industry so far. The demand for fast-moving consumer goods seems to be as high as ever for the time being. According to a study of Wirtschaftsberatung AC Nielsen, this market will grow by 16% (compared to the same period of the previous year) to about US$ 19 billion towards to end of FY 2008/2009.