Automation of the future: Six-axis robotic system with Selogica user interface / 2.2-second cycle time proves high-speed capabilities of Allrounder Hidrive. All of this Arburg will exhibit at the Plastpol 2010 in Kielce (Poland).
With the exhibition of two high-end applications at the Plastpol in Kielce from 25 to 28 May 2010, Arburg will be presenting the injection moulding technology of the future. Trade visitors will be able to view a compact and highly flexible production cell consisting of a vertical Allrounder 375 V machine and a Kuka six-axis robotic system.
The absolute highlight will be the simple programming of the robotic system thanks to the implemented Selogica user interface. In addition, an Allrounder 570 H will provide impressive evidence of the potential of these high-performance hybrid machines: a thin-walled packaging item will be produced in a cycle time of only 2.2 seconds.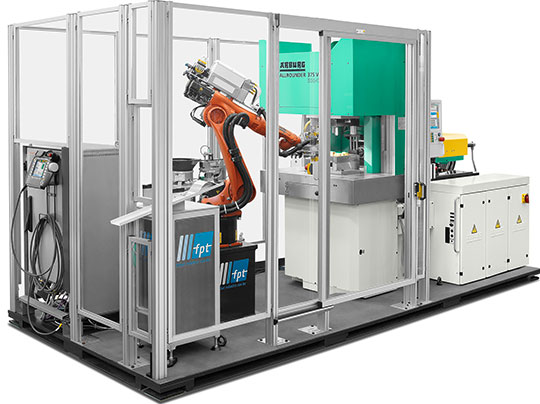 Back in 2008, Arburg was already a pioneer for energy efficiency, bringing this important issue into the foreground for the injection moulding industry. - Now we are going one step further, and focusing on 'Efficient production - says Slawomir Sniady, Arburg subsidiary manager in Poland, explaining the company's strategy. The objective is to achieve maximum product quality at minimum unit cost. The Plastpol exhibits will impressively demonstrate that Arburg provides the perfect means to reach this goal. - The implementation of the Selogica user interface in the control of the six-axis robotic system, the compact, flexible automation solution, as well as the performance capabilities of the Allrounder Hidrive hybrid series, all show that Arburg repeatedly sets standards when it comes to future trends - says the subsidiary manager, describing the highlights of the trade fair exhibits.
When it comes to speed and productivity, packaging technology makes by far the highest demands. At the same time, machine potential must be utilised to the full without sacrificing quality and availability. The hybrid, high-performance Allrounder Hidrive series is predestined for this task, as it combines maximum production output with short cycles and reduced energy consumption. These qualities are the result of meticulously combining proven servo-electric and hydraulic components from the modular Allrounder system. Servo-electric clamping units have been combined with hydraulic injection units and servo-electric dosage. This combination is further enhanced by performance-adapted hydraulic accumulator technology.
The performance capabilities of this series will be demonstrated most impressively at the Plastpol by an Allrounder 570 H with a high-speed, thin-walled packaging application. On this exhibit, which features a clamping force of 2,000 kN and size 800 injection unit, egg boxes weighing 15.6 grams will be produced in a cycle time of only 2.2 seconds.