Five floors will accommodate training, administration and health services
The ground floor of the new building will offer space for around 15 Allrounder injection moulding machines for practical training. Twelve rooms will be available on the first floor for training customers on theoretical points. The next two floors will be open plan offices for administrative staff. Finally, the fourth floor will house Arburg's company health management services. A new staff entrance is also being built.
Functionality, aesthetics and environmental protection
In architectural terms, the Training Center will resemble the Customer Center inaugurated in 2009. In addition to functionality and aesthetics, as with all activities at Arburg, environmental protection and careful management of resources and energy will be a focus. In this context, the double-glazed facade meets with the latest requirements of the EnEV energy-saving regulations, the tried and tested concept for building air temperature control, using low temperatures and full air-conditioning, as well as exploiting rainwater and waste and surplus heat from production to keep the outdoor areas in front of the building ice-free.
Architects Schmelzle explain the special features
For 19 years, Arburg has been building in partnership with architects Schmelzle + Partner, who were also responsible for the new Training Center. In total, there have been 31 projects to date. In his speech, Managing Director, Siegfried Schmelzle talked about what he regards as an extraordinary cooperative partnership: "The truth is that everything at Arburg is really special - the speed with which work progresses, the demands on the ecological and economic viability of the concepts, with special attention paid to the responsible use of soil and land." The guidelines are always to minimise land use, conserve resources and to make the best possible use of the terrain. According to Mr Schmelzle, the requirements for construction of the Training Center have been high. As examples, he pointed to the link to the existing building for which a steel tower will have to be erected temporarily for engineering reasons, and the poor subsoil, necessitating 164 bored piles in order to construct the building. "The new Training Center has to fulfil a great many functions and it is necessary to combine technology with visual aesthetics," explained the architect. It is therefore logical that the company's first foundation stone laying ceremony should be held for this "real multi-talent among ARBURG buildings".
Foundation stone laid in several phases
After the speeches, work began in earnest: first, Michael Hehl, together with the architects Siegfried Schmelzle and Claus Matt, filled the stainless steel capsule with the historical documents. Once this has been securely sealed, he placed the container in the prepared foundation. Subsequently, the three men, together with the other Arburg Partners Eugen Hehl, Juliane Hehl and Renate Keinath, District Administrator Dr Klaus Michael Rückert and Deputy Mayor of Lossburg, Manfred Hauser, spread the mortar on the foundation and finally sealed it with stone slabs.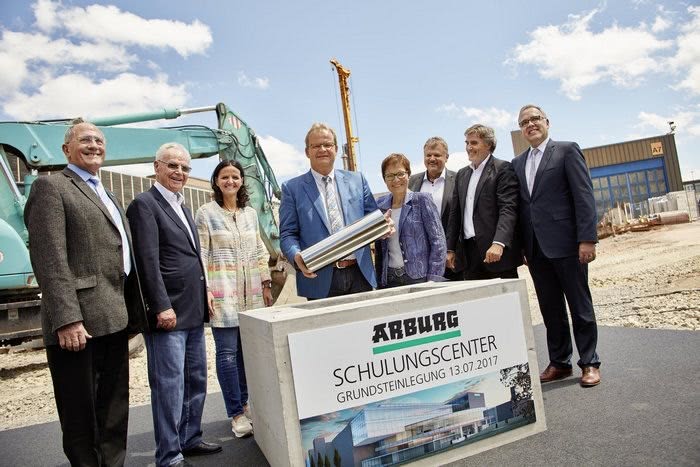 Source: ARBURG