Thanks to the CCD 300, embossing at 3000 caps per minute
Simplicity, practicality, low cost. These are the major advantages offered by crown caps, a vital accessory for the world of beverages ever since 1891 and which in many ways, still today, are inimitable. A field which Sacmi has worked diligently in for years, manufacturing machines for the production and application of crown caps that are increasingly faster, streamlining performance.
Notwithstanding the key function of caps is to safeguard the product, preserving and protecting brand value is just as important in the beverage market. The latest revolutionary product produced in the field of crown caps by Sacmi focuses on this aspect.
It is called CCD 300 and has been designed and engineered specifically for cap '"embossing" (bas-relief deformation of central panel). This feature allows the item to be "embellished" with the trademark, in this manner minimizing falsification risks. The CCD 300 provides outstanding performance, capable of handling more than 3000 pieces per minute with the possibility of synchronizing embossing deformation with the decoration already present on the outside of the cap.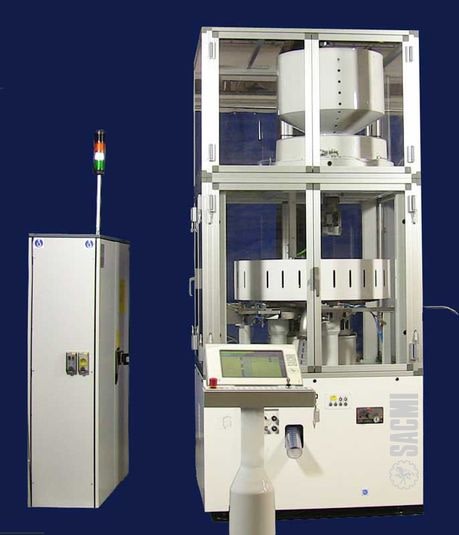 In other words, a real "3D" cap, for a machine that sets itself apart not only for the excellent productivity offered but also because of the minimal impact it has on the layout of existing production lines and the very limited investment required. Synergies with other Made in Sacmi technology solutions is what makes the difference, for example the CVS vision system provided in the CCD 300, that allows the decoration to be identified, up to the automated system for directing caps and the mechanism that detects and ejects non-compliant caps.
The first prototype was delivered at the end of 2010 and was greatly applauded by the client. Sacmi is now proposing the "3D cap" innovation on a large scale. An additional tool in the hands of a sector where innovations are rather hard to come by and, for this reason, may translate into an important competitive advantage to be spent on the market.