Russia is the 3rd most important market worldwide for German food and beverage packaging machine manufacturers. After the economic crash in 2009 exports recovered in 2010 and were about 4% higher than in the same period the previous year in the first eleven months of the year, amounting to around €400 million. Vera Fritsche from the VDMA Fachverband Nahrungsmittel- und Verpackungsmaschinen (trade association of food and packaging machines) sees great potential in the Russian market in future, too: "Germany has been Russia's most important trading partner for supplying food processing and packaging machines for many years now. The credit crunch combined with high interest rates caused Russian companies to put a lot of projects on ice, but now things are getting going again."
Annunziata Landi from the Italian National Institute for Foreign Trade, ICE, is also optimistic about the recovery of the market. After exports of Italian packaging machinery had dropped by almost half in 2009, in comparison to 2008, they rose by 7.2% (in comparison to the same period in 2009) in the first nine months of 2010, rising to approximately €96 million. "Italian machine manufacturers are convinced that the recovery of the market will continue and see good prospects for the future here", she said.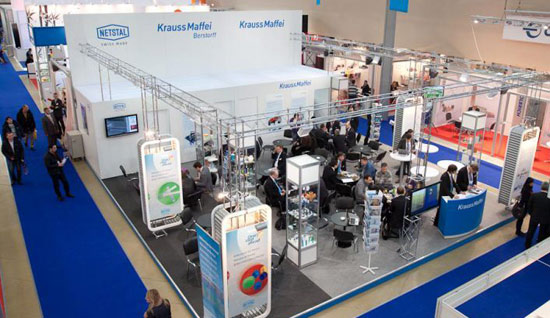 This opinion is shared by Raffaela Bigari from the Italian trade fair organiser Centrexpo and Andrea Briganti from A.C.I.M.G.A., the Italian Manufacturers Association of Machinery for the Graphics, Paper and Converting Industry. "The manufacturers' optimism is evident not least from the increased number of exhibitors here at the fair, which is the most important event for the entire packaging industry in Russia" said Bigari. "Key players in the field of converting continue to exhibit because they believe in the recovery of the Russian market." The A.C.I.M.G.A.'s figures provide proof of the positive trend: In the first nine months of 2010 the value of machinery exported to non-EU countries in Europe saw a year-on-year increase of 3.9%.
There was a significant increase in the number of Russian exhibitors, rising from 79 to 106, representing a good cross-section of the product range at the most important trade fair in their home market.
The visitors' level of technical qualification was emphasised by all of the exhibitors. They were well informed, interested in state-of-the-art technology and specific, tailor-made products. Some had come to the capital from very distant regions of the CIS, although there were a few delegations which cancelled their plans to attend following the terrorist attack on Moscow airport.
The seminar programme at Upakovka/Upak Italia 2011, which featured various workshops and lectures on current topics within the packaging industry, also proved very popular.