Having put the aftermath of the global financial and economic crisis quickly behind it, the plastics and rubber industry is now demonstrating its capacity for innovation and growth. Worldwide, it is thought to have outstanding prospects for the future.
Machine and plant manufacturers, raw materials producers and processers of plastics and rubber are presenting their latest technological advances at trade fairs around the globe.
In Messe Düsseldorf, the industry has a partner that has been organising top-flight events in exciting markets for decades and thus giving export-oriented companies the platforms they need for forging new customer ties, strengthening existing relations and intensifying dialogue with their customers. With the skills and experience gathered as the organiser of K, the world's leading trade fair for plastics and rubber, Messe Düsseldorf accompanies its customers to outstanding regional events.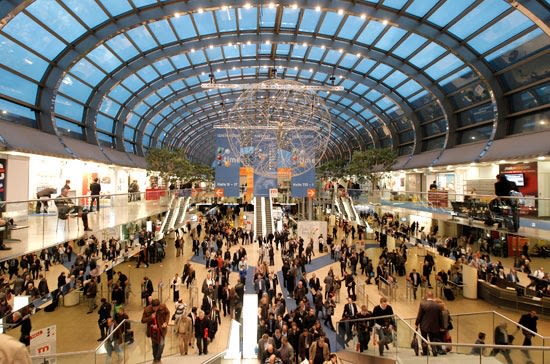 After the crisis-related slump in the Chinese plastics and rubber industry in 2009, a strong recovery has set in across the country. Supplies of machinery from Germany, Japan, Taiwan, the USA, Italy, the Republic of Korea, France and Canada in particular have picked up appreciably. The vitality of the Chinese market will be much in evidence at Chinaplas 2011, scheduled for 17 to 20 May at the Guangzhou International Convention and Exhibition Centre.
Adsale Exhibition Services Ltd., the organiser of Chinaplas, and Messe Düsseldorf have been engaging in cooperation for many years. Not only is the official German participation at Chinaplas being organised from Düsseldorf again in 2011, but the Chinese subsidiary of Messe Düsseldorf is also co-organiser of the event. Some 100 German companies will be presenting their latest innovations on a total space of over 2,500 square metres. Overall, about 2,200 exhibiting companies and 80,000 trade visitors are expected at Chinaplas 2011.
In Thailand, the plastics processing industry is expected to play an important part in the country's economic resurgence. As part of the National Strategic Plan for Materials Technology (2007-2016), investments are treated preferentially by the State. Exhibitors at Tiprex, the Thai International Plastics and Rubber Exhibition, from 31 August to 3 September 2011, will benefit from the country's vibrant economy.
Taking place for the third time, this trade fair expects to welcome about 200 exhibiting companies and 8,000 trade visitors at the Bangkok International Trade & Exhibition Centre (BITEC). Tiprex 2011 is being jointly organised by the Thai Plastics Industries Association, the Federation of Thai Industry – Plastic Industry Club and Messe Düsseldorf Asia, a wholly owned subsidiary of Messe Düsseldorf GmbH. Pack Print International, the 3rd International Packaging and Printing Exhibition for Asia, is being held concurrently with Tiprex 2011.
Just a few weeks later, M-PLAS, the 5th International Plastics and Rubber Trade Fair for Malaysia, gets underway on 9 November 2011 in Kuala Lumpur, Malaysia. With over 1,550 firms devoted to the manufacture of plastics products, Malaysia is considered a highly developed and strongly diversified market of the ASEAN region.