The award-winning foldable, portable Flux Chair, which has taken the design world by storm, bases its simplicity on a single-part, single-material approach made possible by SABIC polypropylene (PP).
Flux Furniture B.V. selected the SABIC PP PHC series of impact block copolymers to mold the complex, hinged part – inspired by origami – that unfolds from a flat package into an iconic yet highly practical chair.
This high-performance material not only meets the demanding usability and aesthetic requirements of the Flux Chair, but also supports its environmental goals through easy recyclability and weight reduction.
The SABIC PP PHC series of impact block copolymers, featuring high impact strength, high stiffness and good flow, were the solution to a dilemma: how to produce a chair that combines flexibility for easy folding/unfolding, excellent strength (supporting up to 140 kg/300 lbs) and stiffness for stability. The materials offer an ideal blend of properties that allow thin hinges to be incorporated into the thicker, rigid chair body. Other attributes of the SABIC resin include custom colorability and an excellent surface finish for luxurious aesthetics.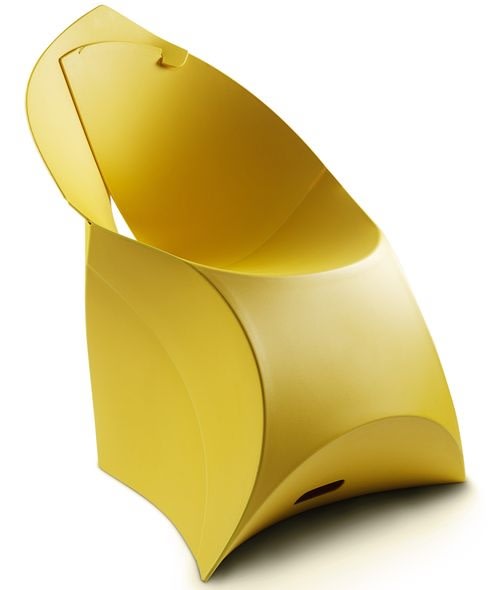 According to Douwe Jacobs, co-founder and lead designer for Flux Furniture, "SABIC polypropylene helped to make our complicated product look simple. This material was the most important factor in the successful commercialization of our design. Also, the local assistance that SABIC provided was invaluable. Not only did the SABIC representative personally deliver trial samples the next day, but a technical expert worked with our injection molder to optimize the tool and processing parameters for this very large and tricky part. Based on the success of the original Flux Chair, we are creating a child's version that also uses SABIC polypropylene."
"It was a great experience for us to work with an innovative design team on this award-winning chair, and we look forward to continuing our collaboration with Flux," said Paul Wanrooij, Technical Marketing Engineer SABIC. "The Flux Chair epitomizes the creative use of our polypropylene technology and shows what can be achieved with a single, versatile plastic. SABIC continues to develop its SABIC PP PHC block copolymer series so that customers like Flux can find solutions to their most challenging projects."