With this newly developed and field-tested, compact-sized aseptic filler, a new era has dawned in the world of aseptics: PET-aseptics for mid-tier companies.
Bottlers now have an option for handling even relatively small batches in aseptic mode while retaining viable cost-efficiency. With the PET-Asept D Compact for dry-aseptics, Krones has created an ultra-flexible machine for the low output range, one that assures a high level of availability into the bargain.
The PET-Asept D Compact is a genuine aseptic solution, a new, up-to-the-future technology based on a line acceptance-tested by the American FDA (Food and Drug Administration). It no longer needs any sterile-water UHT system in order to operate: the containers and the isolator are sterilised with gaseous hydrogen peroxide. The machine itself is cleaned using caustic and acid, which means that peracetic acid and foam cleaning products are no longer required on the system. Its small footprint on a minimised floor area is comparable with linear machines.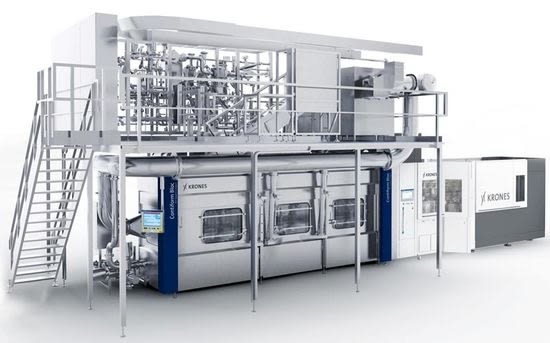 In the core section, the machine's design concept needs an area of merely six times two metres. In there, the containers are passed by a gripper conveyor system first through a pre-warming zone, then sterilised by means of gaseous H2O2 before entering the blow-out section of the steriliser. After this, the containers are filled and capped. The height-adjustable conveyor is already isolated from the sterile zone, which means that minimised change-over time are achieved without any handling parts needing to be replaced. This innovative machine has an output range covering 6,000 to 12,000 containers an hour. It can be installed as a stand-alone line component or monobloc-synchronised with a stretch blow-moulding machine.
A first reference line featuring the new PET-Asept D Compact was delivered to a German bottler early in 2011.