The companies of the Plastic Division in the Sacmi Group have combined their efforts and know-how in order to better integrate the production processes: from press-cycles up to finished products, i.e. creating a well integrated manufacturing system.
Roboplast combines a wide variety of expertises: the injection moulding presses of Negri Bossi as well as the automated coating systems of Gaiotto. Sacmi is the process leader that provides well organized, technical and commercial links to plants, machines, state-of-the-art technology and second-to-none service.
Among the services implemented, the Sacmi Group has developed a highly versatile manufacturing cell for processing plastic components of the motor scooter body.
These parts, which are manufactured in a modern plant where they undergo the forming, on-board machining, washing, painting and final assembly processes in single process areas with robotized manufacturing cells and presses so that the different parts (e.g. cover plates, bodies, etc) of a motor scooter can be easily formed, handled ad machined.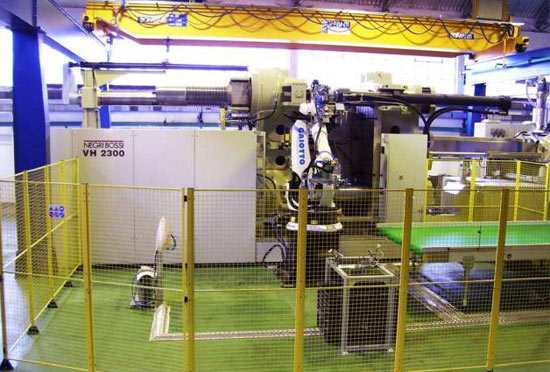 The requirements of the clients in general and the single products cannot fit into price list criteria or standardized principles. For these reasons, even the implemented solutions cannot be considered like this. As the production batches tend to decrease and product complexity to increase, it is not possible to create manufacturing areas dedicated to single specialized products; the machining cells should be as flexible and convertible as possible, thereby minimizing product changeover and process time.
Like the press, with the die-set changer and different raw materials, a number of products can be press-formed with downstream automated systems so that new requirements can be met with little adaptation and conversion work.
In this context, the manufacturing cell has been developed and perfected up to final inspection. A wide variety of products using different manufacturing methods can be carried with a number of production processes, forming operations and reduced batches. The projects are therefore developed taking certain manufacturing limitations into account:
- Allows for the processing of ABS or PP components
- Inserts can be fitted in
- Work-pieces are unloaded w/ support
- Certain components need flame-hardening
- Feed-heads are cut of
- Certain parts need de-burring
- Certain parts should be sand-papered so as to prepare them for the painting process.
The manufacturing cell is not only capable of performing these operations but according to the cycle time available, it could also be implemented for other procedures in the near future. If different products are to be manufactured, a flexible, open, easily programmable and a highly productive system can be provided.