Wellstream in Newcastle in the UK is an important producer of flexible pipelines and is a partner of Evonik. "Producing kilometerlong stable polymer pipes isn't easy," says Business Manager Andreas Dowe from Evonik. When the large pipelines are being produced, the polyamide that is melted on must still be very rigid, otherwise it could easily flow away. "Evonik has developed a special process that ensures sufficient rigidity to enable production," explains Dowe. The deeper the wells are, the more the weight of the pipelines
plays a role. The flexible pipelines made from steel and Vestamid NRG are in use for wells at depths of up to 2,500 meters. If they are any deeper, the pipelines become too heavy. For oil production in extreme depths of more than 2,500 meters, Evonik has developed a lighter composite pipe in collaboration with pipeline producer Airborne from the Netherlands. It consists entirely of Vestamid NRG and is reinforced with glass fiber. Next year, Malaysian mineral oil company Petronas will lay its offshore pipelines completely without steel.
In the applied technology laboratory at Evonik in Marl (Germany): Chemical laboratory technician Karsten Hinnah removes a round metal container from a furnace. It contains white polymer tubes and disks: test specimens made from Vestamid NRG. The experts simulate prolonged stress on the polymer at high temperatures in the furnace. Hinnah takes the polymer specimens to the tensile stress testing machine, where they will be subjected to stress until they split. In this way, the experts can see whether the polyamide has remained stable despite the stress.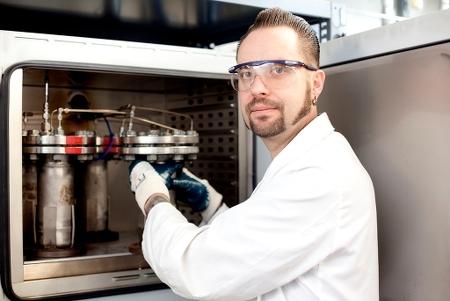 Adapted for many different uses
"We put the polymer through its paces in numerous tests," reports Hinnah. For example, the experts simulate the pressures and temperatures experienced in an oil field in a test rig they built themselves. The test results are also an important basis for what is known as a "lifetime model." Since all oil fields are different, the pipes are tailored to suit the respective site. This takes account of the operating temperature and the different chemical compositions of the crude oil, for example. Every tailored pipe has a lifetime model: It shows in detail what condition the pipe has in certain situations and when it has to be maintained. This guarantees protection on the high seas.