Erema's new system brings together for the first time all the benefits of recycling and compounding in a single processing step.
Upcycling with Corema is the brand new product concept from Erema. The development is based on the idea of processing inexpensive recycling raw material to make customised plastic compounds in a single step without intermediate cooling. Corema thus brings together for the first time all the benefits of recycling and compounding in a single processing step and stands out through flexibility in terms of the materials you can use and system configurations. This combined recycling and compounding system means forward integration for the recycler in the direction of material production and reverse integration for the compounder towards material procurement. This results in an enormous additional benefit which has increasing added value in line with the market trend.
The new system was presented publicly for the first time at the end of June in the course of the Erema Discovery Days at the company's headquarters in Ansfelden and was received with great enthusiasm by around 400 customers and industry experts. With this product innovation Erema once again underscores its reputation as the global market and innovation leader in plastic recycling systems.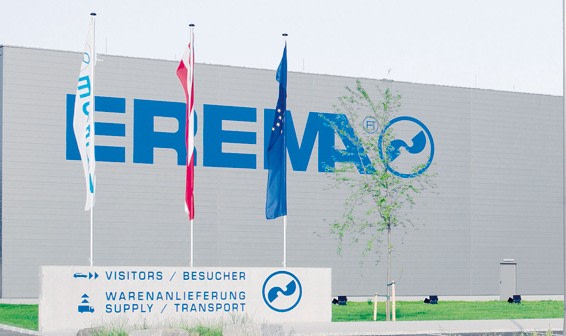 Corema brings together all the benefits of recycling and compounding in one system for the first time. The compounding technology comes from Coperion, the global market leader in this segment. Inexpensive recycling raw material (e.g. PP nonwoven, PE edge trim, PA fibres etc.) is turned into filtered melt using proven, robust Erema technology. In the patented Erema cutter/compactor the material is cut, homogenised, heated, dried and buffered. The preheated material is plastified in the tangentially connected single-screw extruder and cleaned in the fully-automatic, self-cleaning filter.
The prepared melt then goes directly to the co-rotating twin-screw extruder from Coperion. With its excellent mixing and gas removal properties, this part of the system can handle all compounding tasks. Besides the dosing of a wide variety of additives, high amounts of fillers and reinforcing agents can be admixed (e.g. 80% CaCO3, 70% talcum or 50% glass fibres).
"We made a conscious decision in favour of Coperion as a partner. This company has a wealth of experience in the production of compounds and the twin-screw extruders are made in such a modular way that they can be adapted for any individual job. And the same applies to our recycling system," says one of the two Erema CEOs, Manfred Hackl. The result is customised plastic compounds for high-quality applications. Hackl continues: "Together we are convinced that with this combined technology customers can take another step in the value added chain and turn waste into new products in an economic way."