Other opportunities are expected to emerge in food markets, where plastic bottles have yet to make a major impact. The constraint thus far has been the simple fact that high-speed hot filling and retort technologies used to package food already exist for jars, cans, and cartons. However, plastic bottles are expected to be able to make penetration gains over the next few years thanks to growing investment in aseptic cold filling, improved barrier monolayer PET bottles, and the sustainability argument. For example, jam in PET is well established in the USA, and Europe is expected to see an increasing number of introductions in squeezable PET bottles for this product over the next five years.
The UK enjoys the highest penetration level of squeezable bottles for jam in Europe, where they are already widely used for table top sauces. Within the rest of Western Europe steady penetration gains in sauces and spreads will underpin demand growth, whilst demand in Central and Eastern Europe will evolve with the further development of the packaged goods industry. The universal driver is user convenience in terms of squeezability, dosage control, ease of handling and safety, and again, pack light-weighting initiatives.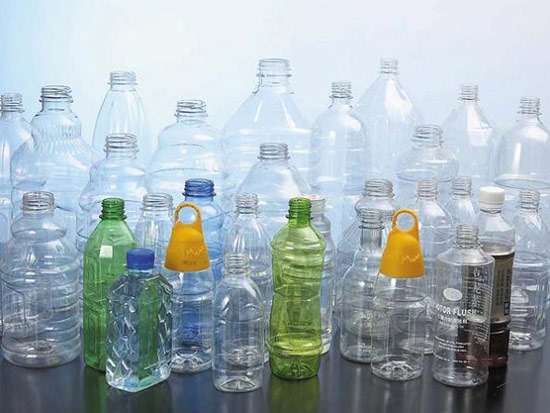 In the UK, the move into plastic bottles in jams has been led by Premier Foods on the Chivers and Hartleys brands. Supermarket own brands have been close followers. In Germany, the chocolate spread manufacturer Cebe has introduced a PET jar made by Alpla to reduce the pack weight from 198 g (glass) to 23 g. The light weight container has a blown rather than injection moulded neck, saving 5 g in PET.
While beer and solid food markets represent large, untapped opportunities for plastic blow moulded bottles, for now the blow moulded bottles market is still largely driven by developments in the mineral water and household chemicals markets, where plastic bottles account for more than 90% of the packaging used. In these markets the trends are more about inter-material competition, with growing volumes of recycled PET being used in mineral water bottles and growing use of PET bottles in household chemicals packaging thanks to a reduction in the price point of PET versus HDPE and a growing preference for clear packaging to display the product.
Within the bottled water industry in Europe, glass bottles are still used for premium brands served at restaurant tables. However, the development of premium, glass-like PET resins promises to open this niche to plastic bottles over the next five years, as a light-weight, shatterproof alternative with greater scope for design flexibility. For example, Novapet of Spain has developed a glass-like, premium PET resin to produce a thicker-walled bottle, to give it the appearance and haptics of a glass bottle. Although three times heavier than a conventional PET bottle, it is still five times lighter than glass, making a considerable contribution to weight saving in transport, with minimal quality compromise. This may also open up scope for penetration of the table wine and other alcoholic drinks sector.