Deep drawn containers
Up to now, blow moulding has been the only way to produce moulds for small bottles for dairy products such as yoghurt drinks from the growing functional food segment. Usually, the bottles are bought in and processed on suitable fill and seal lines. Blow mould machine manufacturers have adapted their machines to the requirements of this segment and many examples of the new machine generation will be on display at interpack 2008 in Düsseldorf. For example, 65 ml containers can be produced at a rate of around 4,600 units per hour using a 12-cavity die. Multiple extruders are used for multilayer, for example, in order to extrude a middle barrier layer. Additional features include systems for rapid blow mould changes and integrated leak testing.
One new development is a thermoforming process allowing these containers to be deep drawn in-line. The thermoforming process provides an absolutely uniform wall thickness distribution despite low starting surface area and high drawing depths. To the naked eye, there is no difference between a blown and thermoformed bottle. In addition, thermoformed bottles are only half the weight of a blown bottle yet still offer the stability required by the market. The machine design is based on experience with FFS lines and cup moulding machines. The machine is suitable for direct linking with existing fill and seal machines in dairies. The line works at 25 cycles per minute and 20 bottles per cycle. This represents a total output of approximately 30,000 bottles per hour and is thus equal to the output of a conventional standard fill and seal system.
In the free zone between the moulding and stamping station, the bottles can be sleeved as required. In the case of subsequent decoration, so-called roll-fed labels can be used instead of sleeves. They cost less but require the bottles to be arranged in a line and cannot be used for waisted bottles owing to the low shrinkage values.
Another advantage of the thermoformed bottle is the external edge. It ensures a smooth sealing surface for the cap. Blown bottles have their edges formed internally, which makes them rather unstable and can result in problems during sealing.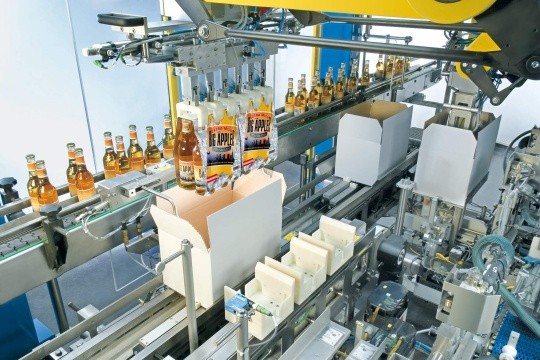 Flexible for multipacks
Whether it`s yoghurt drinks, soft drinks or beer - the bottles are usually sold not individually but in multipacks. Since the introduction of deposits on disposable bottles, returnable packs have become very popular for non-alcoholic drinks and beer. Six-packs are not only easier to carry, they also allow bottlers to offer cases containing different drinks.
A compact top-loading packaging machine can process bottle packs, carrier packs, folding boxes, wraparounds and sleeves. The number of units per pack can be selected at will. If the system is equipped with a scanner system, mixed cartons containing several flavours can be prepared at any time. Switching from a six-unit sleeve to a 20-bottle folding box takes less than five minutes. Due to the compact design of the multipacker, the system offers a high degree of flexibility and efficiency. All drives and movements are CNC-controlled. A touchscreen provides a complete overview of central data and machine functions and allows simple operation.
Interpack 2008 from 24 to 30 April in Düsseldorf will offer innovative solutions and comprehensive services for all areas of packaging and for the confectionary industry. With manufacturers displaying numerous new products, the beverage industry in particular has plenty to look forward to.