Nissei ASB Co., the wholly-owned U.S. subsidiary of Japan's Nissei ASB Machine Co. Ltd., has achieved a major milestone with the scheduled delivery of its 1,000th ASB-70DPH one-step injection stretch-blow molding machine for the production of narrow-neck and wide mouth PET containers.
The versatile and compact machine, originally launched in 1986, will be delivered in the second quarter to a new entrant in blow molding – Novatex North America, an Ohio-based manufacturer of infant care products.
"This achievement is a testament to our strong leadership in technology and manufacturing and our unique ability to adapt to the market and supply the industry with the most flexible and productive machine on the market," explained Jamie Pace, vice president and general manager of Nissei ASB Co.
As a single platform, the ASB-70DPH is one of Nissei ASB's leading models and one of its best sellers. Since their introduction, the machines have undergone major advancements in terms of speed and power, offering significant improvements in efficiency and productivity. The machine line's success corresponds to the growing global use of PET in packaging during the last decade, according to Pace. The popular model enjoyed explosive sales between 2003 and 2007 with more than 300 units delivered. Similar results were recorded between 2007 and 2011, following the launch of the improved Version 4, with approximately 350 being sold.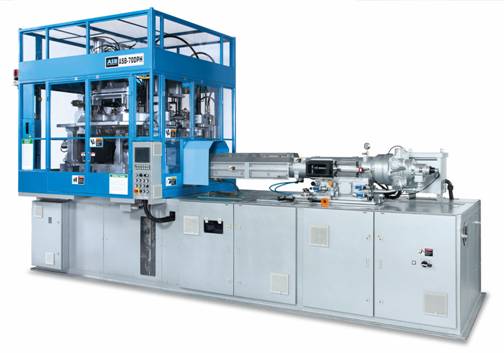 Power consumption for the newest model (Version 4) has been reduced by approximately 40% compared to the Version 3 machine. In addition, cycle time has been drastically improved with the latest version about 14% (about one sec) faster than the previous version.
The current model is highly versatile and compact, capable of producing an extensive range of containers from 50-ml (12 cavities) to 7-L (one cavity) for food, beverages, personal-care, household, automotive, and industrial markets. The ASB-70DPH has 70 tons of clamping force and is capable of producing up to 4,500 containers/hr depending on size and cavitation.
ASB manufactures the machine semi-complete at its wholly-owned facility in Mumbai , India (ASB International) and then completes and tests at the corporate headquarters in Komoro , Japan . The company will commemorate the sale of the 1,000th ASB-70DPH machine with a special event later this spring.