High-Temp, Ultra-Tough Ultem FR Resin from SABIC Innovative Plastics helps launch new actifry low-fat deep fryer with sizzling speed.
SABIC Innovative Plastics' Ultem polyetherimide (PEI) resin turned up the heat to support the successful U.S. launch of Groupe SEB's T-fal ActiFry low-fat deep fryer. In the face of toughening food contact regulations for the appliance's fryer basket in the United States, the French manufacturer turned to SABIC Innovative Plastics for a material offering regulatory compliance as well as color customization, excellent high-temperature resistance and the freedom to integrate parts for system cost reduction.
As the only available material meeting all these requirements under a tight launch window, Ultem resin enabled Groupe SEB to design an ActiFry model appropriate for the U.S. market. SABIC Innovative Plastics, renowned for working side-by-side with customers in various industries to help them achieve business success, is now actively supplying innovative, high-performance materials to the food service and processing industry.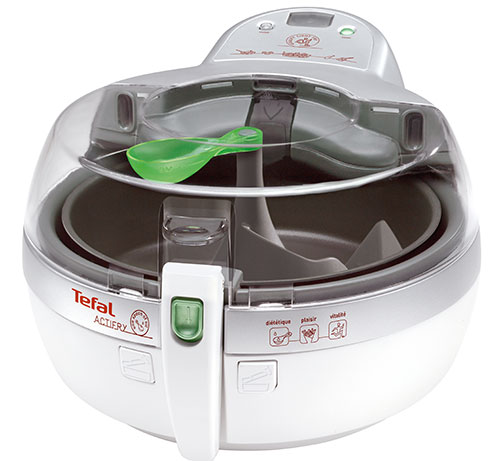 By positioning the right grade and color of Ultem resin, and having it fully tested and specified within eight months, SABIC Innovative Plastics demonstrated that its high-performance materials can meet accelerated development lead times typical of the consumer market - said Julien Sara, international market manager (Water/Oil Electrical) Cooking at Groupe SEB. "This outstanding material – the only one to meet our strict criteria – and SABIC Innovative Plastics' support services were critical in allowing us to meet our deadlines and create a product tailored for the U.S. marketplace.
The Ultem resin portfolio of high-performance, food-grade materials offers many advantages for food service and processing applications from cooking utensils and microwave bowls to unique higher-end appliances. Tightening regulations and new designs are now calling for the high-temperature performance, dimensional stability, colorability and compliance of SABIC Innovative Plastics' tough Ultem resin grades.
- As OEMs become increasingly competitive, quickly taking a product from concept to reality is more critical than ever before - said Gerard Bultema, product marketing manager Ultem resin, SABIC Innovative Plastics. - This is where Ultem resin makes a significant difference: speed to market. Ultem resin is a game-changing material that has provided SABIC Innovative Plastics customers around the world with years of reliable, extreme performance in the most demanding high-temperature environments. As requirements for food service and processing applications become more stringent, Ultem resin is an attractive material of choice due to its distinctive combination of high performance, aesthetics and regulatory compliance.
The T-fal ActiFry can cook one kilogram of fresh-cut French fries using only one tablespoon of oil with a tender, crispy result. Moreover, ActiFry is versatile for creating a variety of healthy, low-fat dishes, such as meats, poultry, seafood, vegetables, and desserts, with minimal effort. Already a great success in Europe, and already growing in popularity in the United States, the pan, which holds the food, must provide high heat resistance and dimensional stability, and meet food contact regulations.
Groupe SEB determined that flame-retardant Ultem resin, unlike competitive materials, met all its requirements by providing compliance with U.S. Food & Drug Association (FDA) food contact requirements and UL94 5VA listing; a relative temperature index (RTI) rating of 170C; and an exact match to the custom dark gray color specified by Groupe SEB. Further, Ultem resin gave designers the freedom to create a single molded part integrating mechanical assembly features, the heat resistance supports underneath the fryer basket, and a hot air inlet for air circulation around the pan. SABIC Innovative Plastics worked closely with the molder and SEB, who provided processing and mold design support.
Ultem resin also offers global food contact certifications for the Food Standards Agency (FSA) in the United Kingdom, and the Japan Hygienic Olefin and Styrene Plastics Association (JHOSPA) in Japan.